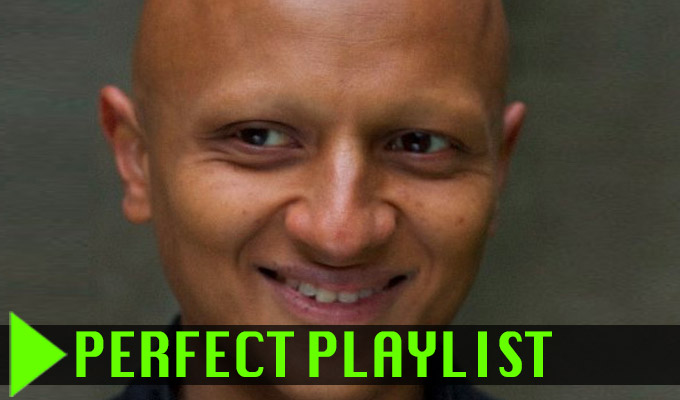 'I literally had no idea how he was making me laugh'
Hello. Here's my perfect playlist of six different things from six different mediums. It's not 'perfect' as it doesn't include Woody Allen, WTF Podcast, or Steve Martin, but I've just mentioned them here, so now you know. Here's the other six:
Calvin and Hobbes (Comic Book)
Calvin and Hobbes remains as beautiful and brilliant and funny to me today as it was for me growing up. I just loved the tone of the whole thing, and as a kid I related to Calvin's grumpiness and idiocy so much. The longer stories, which often run for 6-7 pages, are incredible.
The author, Bill Watterson, never licensed the strip, so no teddy bears or cartoons or anything were ever allowed to be made, so it never quite got the fame it could have, and sadly, I don't think really ever caught on in the UK.
Here's an animation made by a fan:
Seinfeld: How It Began (Documentary):
When I left England and moved to Saudi Arabia in 1987, there was only one English TV channel there, but it showed tons of American network sitcoms- Charles in Charge, Night Court, Family Ties, etc. Then, in the 90's, we got satellite TV, and I saw Seinfeld for the first time, which was surprising, as anything Jewish was banned from Saudi Arabia. Anyhow, it was so different to any show before it, and it remains my favourite studio sitcom ever made. I loved the conversations between Seinfeld and George Costanza, who I didn't know at the time was essentially Larry David. So the above documentary about the making of Seinfeld, with both Seinfeld and Larry David, was such a treat when I first watched it, showing all the seeds of the show.
Demetri Martin: 12:21 (Short Film)
I still think about this 20 minute short film a lot. It's so good. It took me a while to 'get'" Demetri Martin, but once I did, I got quite obsessed with his writing. I've always loved how much care and craft he puts into everything he does.
The film was directed by James Bobin (Flight of the Conchords, Ali G Show) for Channel 4's Comedy Lab strand, and combines Demetri's slow pacing, drawings, and music to create a really unique feel. Channel 4 have taken it off their website and there's only one shoddy recording of it on YouTube (below), but you can purchase it on iTunes for less than £2. Definitely worth each pound.
Jake and Amir (Web Series)
There have been so many great narrative web series over the years: High Maintenance, Nirvana The Band The Show, Wainy Days, Variety Shac, Broad City, but for sheer consistency and volume of output, I'm putting these guys on the list.
The conceit is simple: Amir is scarily obsessed with Jake, and they sit opposite one another at work. They started making these videos on their phones in 2007 while both working at CollegeHumour.com, and by 2015, had made over 750 episodes (two a week), and racked up around one billion views. They weren't precious about putting stuff out there, and they're a good reminder to just get on with it and make things. No producer or money is necessary.
Phil Burgers aka Doctor Brown (Live)
I feel lucky to have seen his Edinburgh shows, and he is the best live performer I've ever seen. There were other absurdist comedians I loved like Steve Martin (my personal fave), Tony Law, Harry Hill, Arj Barker, Andy Kaufman, and Hans Teeuwen, but when I saw Doctor Brown in Edinburgh in 2011, I literally had no idea how he was making me laugh, and he was doing it without even talking.
It blew me away. I have since taken his Gaulier inspired clowning courses, but I'm still in awe of what he does. It's hard to find good clips of him live, although I really like the little clip above of him confronting an audience member.
It's aggressive and funny and innocent all at once.
His Netflix special in The Characters was terrific as well, and all shot in one take.
Mad Men (TV)
Probably my favourite show of all time. Although most people call Mad Men a drama, I think it's a brilliant comedy as well, and I think most great dramas do have that crossover – Sopranos, Breaking Bad, etc.
Each character is played to perfection, it looks great, and except for the glaring fact that there are no non-white characters in the main cast, it's a pretty flawless show.
The clip below is a funny montage of Pete Campbell, my favourite character to watch in terms of laughs. I could watch him all day.
• Arnab Chanda: Stories from Arnab is at Banshee Labyrinth at 17:00
Published: 4 Aug 2018
What do you think?