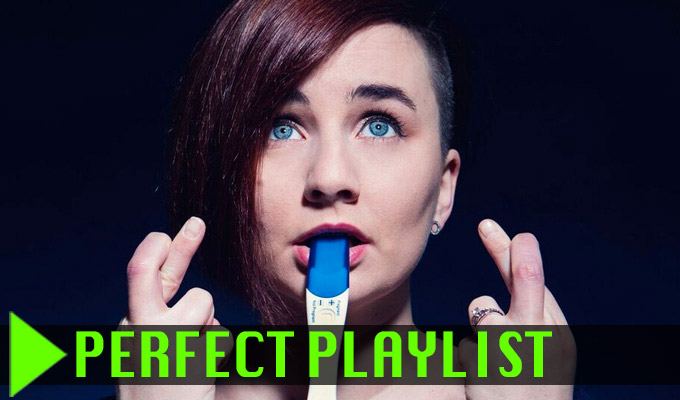 'I can picture what Billy Connolly's talking about... down to the last jobby'
What I love most about stand-up comedy is the conjuring of a whole world out of nothing. No props. No costumes. Just words and imaginations. One person says one thing and everybody listening imagines something different...I love the simplicity of the method and the complexity of the result.
Here are six times stand-up was perfect for me:
Eddie Izzard - Glorious
My parents had a cassette audio tape of Eddie Izzard's Glorious, and my older sister and I used to listen to it on repeat. We didn't understand half the references and we didn't know what he looked like or what he was physically doing but we loved it. I could see pilot fish, and animals of speed boats and evil giraffes... it remains exactly the same image in my mind's eye now as it was then.
The beauty of the rhythm and intonation of his delivery seals the images, varnishes it... listen to the way the man says 'it's like blowing into a weasel... weasel weasel' and tell me you can't picture the feeling of that tough inflate? Perfection.
Phill Jupitus doing an impression of Eddie Izzard at We Know Where You Live, Live...
This is an exceptional live moment... Phill Jupitus doing an impression of Eddie Izzard, doing some excellent material about Star Wars. So many layers! How many images do you have in your head while this happens?
Firstly, Jupitus does an excellent impression of Izzard's mannerisms and voice; so you have that in your head. Then, he's also written some very funny Izzard-esque material so you're laughing at the Star Wars imagery, but at the same time you're also laughing, in a friendly compassionate way, at the common threads within Izzard's style.
On top of all this, Izzard is there hosting the event so the audience can imagine his reactions to this and the vibe between him and Jupitus.
There is so much being created for the audience here - so many worlds and interactions and levels of observation... but it's still one person with a microphone. Beautiful.
Richard Pryor: Animals in the back garden
I could have picked almost anything I've ever seen or heard from Pryor... the man seems effortless. The bit that always sticks in my mind is the spider monkeys and the German Shepherd - have a listen to the energy change as he goes from monkey to dog, the whole flow of the delivery shapes these characters. You don't have to see him, you only have to hear him to have all the distinct characters come to life.
When you do watch him and see how the physicality adds to it, it's almost mind blowing. Watch his bit about the African jungle - the way his shoulder blades create a lion and the pace of a head turn is two Cheetah running. It comes from practically nothing and suddenly you can see everything.
Jeff Innocent
Jeff Innocent is an excellent comic who I've worked with many times and always enjoyed, but he has a specific bit that has stuck in my mind always even though I've only ever seen him do it once.
He talks about being on the train going north and describes the whippets running alongside the train like dolphins by the bow of a ship. Pure magic imagery... absolute aesthetic poetry - the bouncing motion, the swiftness of the train, the observation of northern stereotypes along with the cliche of the dolphins in the sea.
It's so simple and clever and pops into my mind all the time when I think about how cleanly stand-up can paint in your mind.
Josie Long
Well before I was a comedian, I went to see Josie Long at The Horsebridge Arts Centre in Whitstable. She had a piece of material about buying a coat in a second hand shop that came with the name Katherine Annan sewed into it, and whenever she wore it she felt like playing up to being Katherine Annan. She created a character based on the name tag and embodied it.
I can't remember any individual lines, or the jokes or any thing much more than the gist of what I've laid out above... but I really remember that coat; the image in my mind of this beautiful woollen coat, and how happy Long felt and looked as she pretended to wear it. I've not seen this material since, and I don't think it exists online but here I am at least nine years later thinking about a coat that she created for me in under a few seconds.
Years later I started watching more and more comedy and saw Long again on an Invisible Dot bill, she was running around the stage playing lots of parts in a mini play she was concocting on stage and loved it all over again.
Almost Brechtian if you want to be ridiculous about it, she's all over the place like Berkoff, picking up characteristics and dropping them and rushing back and throwing ad libs in between... so swiftly constructs a world that would cost thousands in a film and take ages to read but with a change in posture and a flick of the hand one clever person can create it in a flash using stand up comedy.
Billy Connolly
Billy Connolly uses a mixture of tiny physicalities, accents, voices and noises to illustrate such a wildly vivid world. A toilet on a dock yard? Never used one... can I picture this with absolute clarity? Down to the last jobby.
Watch how his arms constantly paint the bar and the line out to each side of him - look at the eyebrows flicking up when he's a tall man, look how swiftly the knees go up and down to give the reactions spirit.
It looks so simple, it looks like a mate telling a story down the pub but it's incredible because of the finesse. For example, watch how when he's being a hardy man beating his pubes out with a hammer, the other arm goes on the hip. It's a new pose and it cements the image of the brawny guy so easily... it wouldn't be noticeable if he didn't do it; it's still funny but knowing it's funnier with it there and having the presence of mind to do it is what makes Connolly a genius in my book.
He's barely taken half a step to the left or right; the microphone has stayed still in the stand, and yet you'd swear you'd seen him sitting in each of the positions along the toilet line and floated down it too. You see it all.
• Laura Lexx: Trying is on at the Gilded Balloon Teviot at 17:15
Published: 1 Aug 2018
What do you think?