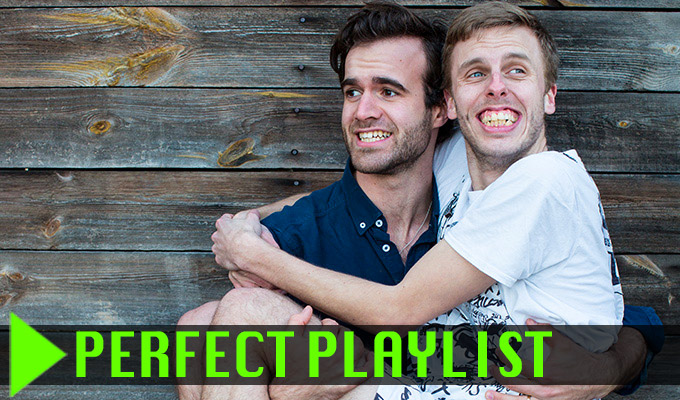 I applied to study medicine because of Scrubs...
Flight of the Conchords
Chris: For sure one of the biggest influences on us. Do you remember on MySpace when you could edit the HTML of the page and put videos and things on? We had a lot of Flight Of The Conchords videos on our respective pages circa 2002.
I remember the moment we watched clips on YouTube that someone had ripped from the HBO special, in our mate's bedroom aged 13 or so. Earlier this month, we got to watch them recording their new HBO live special, which was amazing.
Scrubs
Harry: It may not be seen as overly clever highbrow comedy but I can't think of many shows that influenced us as much as Scrubs growing up, to there extent that I applied to study medicine at university before realising comedy-rap-jazz would be a far more stable and lucrative career choice.
As well as being fun and ridiculous, its main characters were two male friends that were openly affectionate to each other, which was virtually unheard of on TV at the time, and even now seems to be a concept that a lot of people struggle with.
This fed into our bromance before we even know that word existed, and is epitomised by this clip from the musical episode with the song Guy Love.
Book of Mormon
Chris: South Park have such a great silliness and are pretty non-discriminatory when it comes to taking the piss. Matt Stone and Trey Parker often write songs for their shows which are always brilliant, but Book of Mormon is on another level.
The musicality is phenomenal and the story and lyricism is so sharp. We went around the States five or six years ago gigging and sleeping on sofas, and we entered the Book Of Mormon ticket lottery every day for the 10 days we were in New York.
We didn't win so on our last day we queued up for about nine hours to buy standing tickets on the door, managed to buy two for about $30 and it was one of the funniest things we've ever seen - especially because underneath it all there was a sense of lightheartedness, silliness and heart.
Bojack Horseman
Harry: This could equally have been Rick and Morty but only in researching for this did we discover that being a Rick and Morty fan is perhaps not the best association out there.
That being said both shows are an incredible mix of the outright genius and the brilliantly stupid. Bojack is set in a half-human, half-animal populated Hollywood, and managed to have an almost entirely speechless episode set underwater that somehow brought me to tears, which exists alongside countless animal puns such as Manatee Fair magazine, Shaquille O'Seal and Llama Del Rey.
We can only hope to try and emulate this combination of puns and poignancy in our songs.
Charlie Brooker
Chris: I got into Charlie Brooker when he brought out his Screen Wipe series in 2009 because I liked the thumbnail on iPlayer.
He's one of the most self-aware writers and presenters I've ever seen, without being preachy. In News Wipe, he dismantles every trick in the book used to stir up fear, create hype and sustain 24/7 news cycles. Having written for papers and for TV he speaks with authority, and has the most wicked wit alongside it.
His Games Wipe one-off was brilliant, his specials are brilliant, his featuring of Tim Key and co-creation of Philomena Cunk is brilliant, Nathan Barley is brilliant, Black Mirror is darkly brilliant, How TV Ruined Your Life is brilliant; I'm a fan.
One time I walked past him in Ealing and was completely starstruck, and just managed to say 'you're a great man', which I hope he found funny.
The Mighty Boosh
Harry: In school I could recite entire episodes of this when it came out. Again it was an incredible mix of the completely surreal and wonderful with songs that were genuinely catchy and enjoyable to listen to.
At the height of my Mighty Boosh fandom I performed a 'crimp' chant about the cafeteria's new jacket potatoes in the end-of-school assembly - If only I had known I would be talking about the equally potato-related aloogobiphobia on TV 10 years later, and that they would eventually let you have cheese, beans AND tuna if you asked nicely.
• Harry and Chris Save the World is on at Just the Tonic at The Mash House at 14:25
Published: 31 Jul 2018
What do you think?