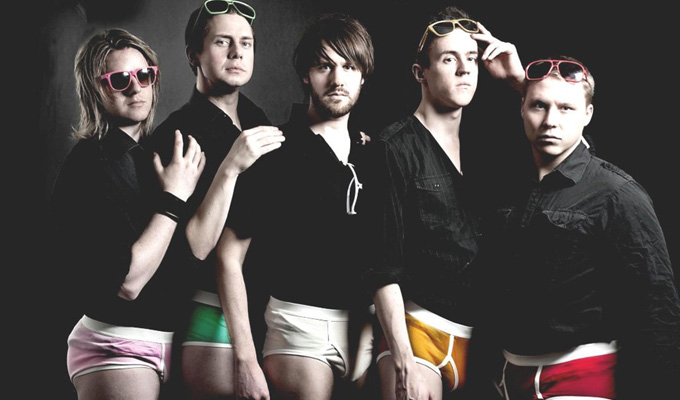 'Waiting For Godot with frying pans'
Ahead of their Christmas residency at the Soho Theatre, which starts next Monday, Late Night Gimp Fight pick their Perfect Playlist, which each member of the troupe picking their own personal favourite.
Lee Griffiths, Head Gimp, chooses Howard Stern
I used to be a big podcast fan but these days all my listening time is spent in the company of the Howard Stern radio shows (thanks a lot, Adam Riches...)
Forget what you think you know about him and go listen to some of his interviews. He is without a doubt the greatest interviewer in the world, with an incredible ability to make people open up and isn't afraid to go after the left, the right and the happy middle ground.
Twelve hours a week at a level most comedians aspire to reach in a lifetime.
Matt Ralph, Jock Gimpm chooses Nick Mohammed
For me he is the most consistent performer at the fringe, every show is smart, surprising, and always very, very funny.
His Mr Swallow character is the gift that keeps on giving. If I have non-comedy/theatre friends come to visit, his is always the show that I take them to see.
Also I am fairly sure he is an actual genius.
David Moon, Single Gimp, chooses Spaced
Like any TV-bingeing millennial, shows like The Office, Peep Show and Curb Your Enthusiasm shaped a new style of so-awkward-it's-funny delivery that still permeates just about everywhere.
But my pick came just before this wave, and is still one of my favourites of all time. Spaced dealt with friends, relationships and not wanting to grow up, all in a fresh, funny and unashamedly silly way.
It contains still some of the most memorable characters (Tyres, Brian, Vulva to name a few) and most enduring comedy moments for me, such as the slow-motion gunfight in this episode:
Paul Richard Biggins, Actor Gimp, picks Bottom
My comedy diet growing up was a bit of a mixed bag, but I always laughed hardest at Bottom. The sheer physical buffoonery of it, right down to Rik Mayall's perma-flared nostrils, was a sickening joy to watch. 
It was only when we started doing comedy I appreciated how tightly choreographed the whole show was. There's something desperately tragic about Richie and Eddie's friendship: two outsiders, shut off from the world, spending their lives doing horrible things to each other and yet unable to leave each other either. It's Waiting For Godot with added frying pans.
I don't think I've laughed harder at anything in my life than at the episode Hole.  Sometimes, you have to obsess over every word, every nuance, to get a gag just right.  Other times, it's best just to have two people nearly falling out of a Ferris Wheel. 
Richard Campbell, Face Gimp, picks the Pajama Men
The Pajama Men are by far my favourite live act and their shows are always bursting with creativity and originality. Their versatility as performers is astounding and every show is packed with such a huge array of misfit characters it is sometimes difficult to believe it is just two guys in their pajamas.
Seeing them live is always a pleasure as while it is clear that every character and comic line is carefully crafted, the two of them are never afraid to play around in an attempt to make the other laugh and keep it fresh.
Plus Shenoah Allen's facial expressions will always be an inspiration to me! If you want a masterclass in character comedy, do yourself a favour and catch them when they next fly into the Soho Theatre.
• Late Night Gimp Fight are at the Soho Theatre, London, at 9.45pm from next Monday until January 6.
Published: 11 Dec 2017
What do you think?