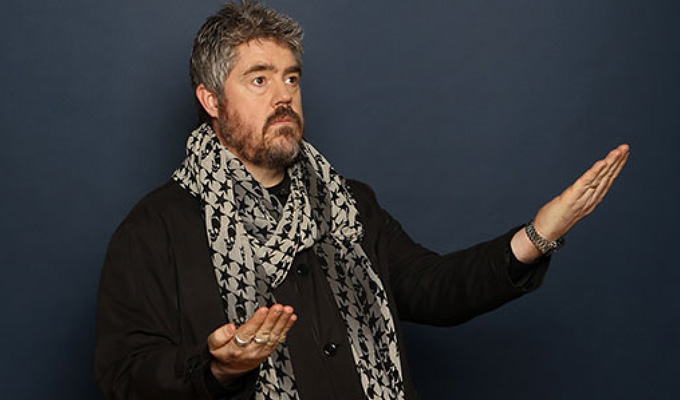 'All of my favourite comedy has a touch of poetry to it'
The ability to put this list together with such ease, has reminded me of the time when friends and I would exchange cassettes or worn VHS tapes of favourite bits. Truth be told, I kinda miss the effort that was involved. But hey, evolution, right?
The following bits are all favourites from the various disciplines I enjoy as part of the job today, apart from animation, but Howard Read has that covered.
Dr John Cooper Clarke
I saw John Cooper Clarke opening for Siouxsie and the Banshees at Chelmsford odeon in 1981. Up to that point I'd only ever seen bands opening for bands. He gave a magical half an hour of machine gun poetry and truly awful pub gags. It was inspirational.
Getting him on to Buzzcocks after years of trying was a highpoint in the show.
This is one of his later poems. We're waiting for that second book, Doctor!
Chuck Jones
The first comedy I loved as a kid was cartoons. The frenetic pace, the wilful absurdity, the precise choreography.
The work of Chuck Jones was absolutely magnificent. He learned his chops with Tex Avery, and imbued the output at Warner Bros with a bizarre and anarchic edge.
But the thing that brings me back to his animation again and again, is the beauty of his line. A brilliant comic brain and a sublime draughtsman.
Steve Martin
Steve Martin appearing on Parkinson in 1980 was a bit of a revelation. This was the year I first saw/heard Alexei Sayle. I still remember his 'Mister Sweary' bit at Basildon Towngate theatre as one of the funniest things I ever saw.
I suppose what I loved about Sayle and Steve Martin was the absurdity. Stylistically very different, but a similar 'take charge' energy.
I could only find this fairly ropey thirty second clip of Martin's UK TV debut, but it very much sets the tone.
#OnThisDay 1980: Michael Parkinson interviewed Steve Martin. Sort of... https://t.co/GiLicbWOMC

— BBC Archive (@BBCArchive) March 26, 2016
Laura Davis
I met Laura Davis this April in Australia. A fantastic young comic with a brilliant take on life, and some breathtaking new angles. Her run at this year's Edinburgh Festival was her first time out of Australia, and her show Cake In The Rain was one of this year's highlights for me. [It's also on at Soho Theatre from tomorrow to Saturday]
Dawn French and Alison Moyet
I love Dawn French and I love Alison Moyet and I love funny pop promos. This is one of my favourites. Hilarious and sexy and you can dance to it.
Salena Godden
Salena Godden is one of the funniest women I have ever seen onstage. All of my favourite comedy has a touch of poetry to it, and conversely all my favourite poetry makes me laugh. Salena makes me laugh and gasp. She is magnificent.
• Phil Jupitus's tour Juplicity continues at Lincoln Drill Hall tomorrow until December 9. Click here for schedule.
Published: 13 Sep 2017
What do you think?