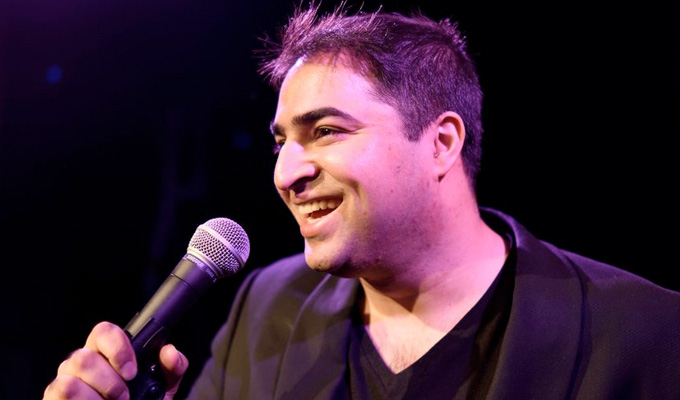 'It's what stand-up comedy should be'
Aatif Nawaz, who is presenting his third show at the Edinburgh Fringe, selects his Perfect Playlist of comedy favourites.
Omid Djalili: Live At The Apollo 2006
This was it. The first time I watched a stand-up comedian on TV and thought: THAT! That right there is exactly what I want to do with my life.
I'd seen some stand-up comedy before this show, but this was the first time it felt larger than life. The idea of a something more than just telling jokes. As the great man says himself, 'a more rounded evening's entertainment'.
It's a perfect set. An almost hypnotic performance. From dinosaur impressions to glorious bellydance non-sequiturs. It was a tour de force and left and impact of my performance style that exists to this day.
Paul Chowdhry: What's Happening White People (2012)
As a British-Asian comic, I'd always been told there was a ceiling on my career. After all, I'd never really seen any Asian acts on British TV. You might see a brown face here and there. But never the star of the show.
Enter Paul Chowdhry.
He did it man. He proved that an Asian man from North London could be a Bona Fide UK comedy star, and not compromise their material. There seems to be this modern pressure to not engage with your ethnicity, like it's some kind of hacky shortcut. Well, no one told Paul. Cause he did it. And he smashed it.
It's a fantastic show. Every time I watch it, I feel inspired and hopeful.
Jim Jefferies: Bare (2015)
That gun control bit… man, oh man!
I've seen a lot of comedians make strong social/political points in stand-up. It's something I've tried to do for years. But to have audiences in fits of laughter while reflecting on sobering realities. It's a tightrope. And yet Jim Jeffries doesn't so much walk it as unicycles across it while juggling and vaping.
It makes me laugh. It makes me think. It make me smile. Genius level stand-up.
Eddie Murphy: Raw (1987)
I didn't see Richard Pryor. I mean, I did. But way later. Loads of great American comedians. I saw them all. Robin Williams. Louis CK. Chris Rock. Dave Chappelle. Bill Burr. All the modern greats.
But Eddie Murphy was the first. It just felt so big. So detached from his movie star persona. This was a man who knew how to tell jokes and tell them well and with a clear understanding of his audience.
I've seen many American shows which I no doubt rate higher. But nothing evokes the feeling of why I love the genre quite like this.
It's what stand-up comedy should be. Joke after joke after joke.
Tim Vine: So I Said To This Bloke... (2008)
I wrote my first autobiographical novel on my spine. It's my back-story.
No? Damn it!
I can't do it. I really struggle with writing and delivering puns. The writer in me is always blown away by clever wordplay. The engineering of a good pun. Delivering them sequentially. Playing through the groans.
Every year, I seek out the best punners in the game and take great joy in watching their shows. Darren Walsh, Mark Simmons, Leo Kearse, Lovdev Barpaga. The first man I ever saw punning on my TV screen was Tim Vine. Still a huge fan. Love this set.
• Aatif Nawaz: The Last Laugh is on at Laughing Horse @ The Newsroom at 23:15
Published: 18 Aug 2017
What do you think?