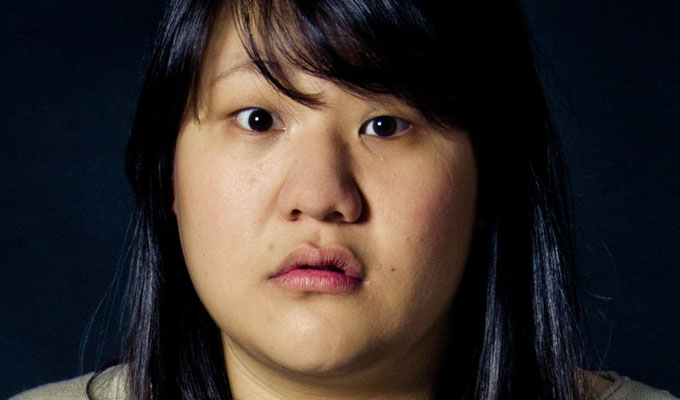 I fundamentally disagree with Patrice O'Neal... but he makes me laugh
Born in Sweden to immigrant Chinese parents, Evelyn Mok is making her full-length solo debut at this year's Fringe. Here she picks here Perfect Playlist of comedy favourites.
Andy Kaufman
Andy Kaufman is one of the greats. He embodies that part of comedy that can't necessarily be explained through terminology, the part that only comes from an extremely accurate intuition that we layman have labelled the 'funny bone'.
Kaufman marched to the beat of his own drum throughout his career, creating an incredibly original body of work. One of my favourite things to do is watch him create anticipation by playing around with silence. Audiences are always uncomfortable with silence and the more silence you give, the more they'll fill it in with sound – and in Kaufman's case it's laughter.
This clip from David Letterman's short-lived morning show, before he moved to late night, is a prime example. Kaufman elicits so many laughs in the first minute, without having uttered a single word and the audience in true form start filling the silence with nervous laughter that then turns into full blown howls.
The fact that he dared to take such a risk on a formatted show like this is just pure joy. His influence is still visible today, for instance in Will Ferrell's late-night appearances, which are often comedy bits as opposed to straight interviews.
Margaret Cho - I'm The One That I Want
I cannot put together a Perfect Playlist without mentioning the influence Margaret Cho has had on me, for all the obvious reasons. This special really had an impact on me just as a person, because it was the first time I saw someone vocalise the feeling of 'otherness' that I was experiencing.
It was very empowering to watch, because not only did she confirm that stereotypes in the media existed, but she reclaimed the narrative by speaking about it.
I've had conversations with people who suggest that she perpetuates stereotypes with impressions of her mother. I've always believed that even if your intent with a joke is clear, you can never control how it will be interpreted. Depending on the audience you perform for, the same piece of material can be interpreted in different ways.
I find that this can be the case with Margaret Cho's impression of her mother. Where other people may see a stereotype, I see Cho relaying an East Asian immigrant mother's attempt at trying to find common ground to bond with her first-generation Western/American daughter.
This is most definitely because we have similar references as first-generation East Asian daughters, so the little quirks she's thrown in, the illogical reasoning and the bluntness, all echo my own parents.
Because Cho had lived this experience, she manages to pick up and chuck in these little subtle nuances presenting a truthful account on stage of what I feel is my experience, making it so enjoyable to watch.
Kids In The Hall
Kids In The Hall would come on TV late in the evening, and I would try and stay up most nights to watch. It was silly, absurd and very very funny.
Indian drum is one of my favourite sketches from the show, it's one of the shorter, sillier possibly inconsequential ones but it stands out to me because it sounds like a poem, because it is literally written like a poem. It's the perfect example of how rhythmic jokes are and how you can get to the punchline in just a few stanzas.
Patrice O'Neal
I fundamentally disagree with Patrice O'Neal when it comes to gender, but he makes me laugh at all of them.
Like Richard Pryor, Bill Hicks and currently Louis CK, O'Neal has a disarming honesty in his comedy, that lets him succinctly convey his world view to an audience and ultimately get people to laugh at things that they are opposed to.
As a stand-up it's beautiful to watch. He is upfront and fearless and the audience has no other choice but to get on board.
Liz Lemon
When I started watching 30 Rock, it honestly felt like my life changed. For the first time on TV, I saw a female lead character that I felt like I fully identified with. Liz Lemon is lazy, stubborn, loves cheese and and was comfortable in her unconventionality.
It felt like the acerbic best friend of the romcom heroine had finally got her own TV show and it was as smart, funny and honest as I could have hoped it to be. I'm always in the middle of a season of 30 Rock.
My only issue with it is that Tina Fey has already so hilariously and eloquently voiced an unconventional female lead, it feels like any character I would even attempt to write, would just be a weak replica of Liz Lemon.
Adam Sandler
I know that as the years have passed Adam Sandler has slowly but surely slid down from his place as a comedian and more into being the punchline, but as a kid he was the first comedian I saw who had a distinct voice.
I watched all of his films as a kid and loved his albums and the songs he would perform, because he had a very silly, ridiculous, dare I say childish sense of humour that definitely tickled the sensibilities of a chubby, Scandin-asian eight-year-old.
is parents were constant characters in his comedy, which for a kid was very relatable. I will say that Sandler was definitely the one who awakened my interest in comedy, and through him I discovered SNL, stand-up and then ultimately as I got older (turned 12) I discovered Maria Bamford, Demetri Martin, Eddie Murphy, me and the Sandman grew apart.
• Evelyn Mok: Hymen Manoeuvre, Pleasance Courtyard, 18:00
Published: 16 Aug 2017
What do you think?