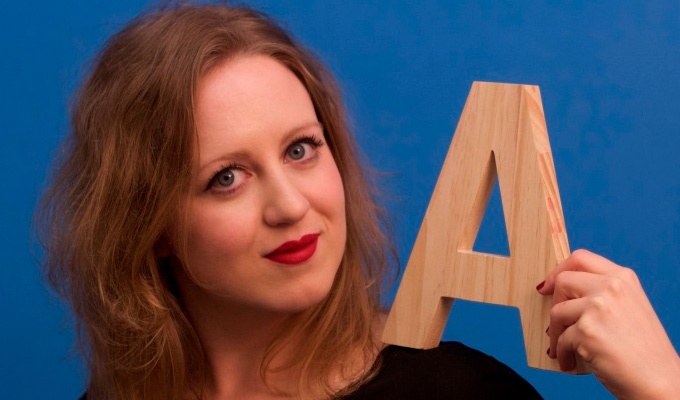 Richard Herring blew my mind
Annie McGrath chooses her favourite comedy moments:
Mean Girls
I saw Mean Girls when it came out in 2004 in a cinema in my dad's hometown, Redruth, in deepest, darkest Cornwall. Together with the projectionist, my dad and I made up 100 per cent of the audience. Despite that, we both agreed it was an absolutely brilliant film.
As a 15-year-old girl, I think it was particularly exciting for me to see such well-written, funny female characters. I went to an all-girls school so the cliques in the canteen really resonated with me: The Plastics, Cool Asians, Girls Who Eat Their Feelings, Girls Who Don't Eat Anything etc.
My friend Shannon and I became obsessed with it. We learnt Gretchen Wieners' Julius Caesar monologue, as well as the dance to Jingle Bell Rock. That's the kind of thing you do when you go to an all-girls school and you can't find a boyfriend.
20th Century Fox with flutes 
Fellow comedian Patrick Turpin showed me this video about four years ago and it still makes me laugh. It is so stupid but it really tickles me. I think partly because the flute reminds me of when I used to practise the recorder and it would really irritate my older brother. Woodwind instruments sound so hilariously lame. I love them.
Bottom: Gas
Rik Mayall was one of my favourite comedy actors. His silly, anarchic performances are what made Bottom so special and so ridiculous. One of my favourite moments would have to be Richie repeatedly screaming 'GAS MAN!'  
I first watched Bottom when I was quite young, arguably too young, and I remember being delighted that it existed. I loved the unashamedly violent relationship between Richie and Eddie and the moments of pure slapstick.  
The Parole Officer 
Embarrassingly I first came across Steve Coogan not as Alan Partridge but as The Parole Officer in what was soon to be one of my favourite films. 
I was very lucky to meet him at a charity gig in Oxford when I was little and of course I did the cool thing of asking him for his autograph. He wrote 'A-ha!' and I remember thinking 'I don't remember that bit of The Parole Officer'…
Richard Herring- Someone Likes Yoghurt 
My first trip to the Edinburgh Fringe was in 2005 when my brother was in a play up there. The festival felt so magical. The show I remember most vividly was Richard Herring's. I hadn't seen very much stand-up comedy at that point and his relentless magpie routine, together with his re-enactment of buying nine yoghurts at the supermarket blew my mind.
Chelmsford 123
I didn't used to watch my dad, Rory McGrath, on TV, mainly because everything he was in was unsuitable for me, as a child. But when I went to my granny's house, she had recorded all of Chelmsford 123 on video. So I watched them all. I think it was the first show Hat Trick produced in 1988, before I was born.
As well as enjoying seeing my dad and godfather (Jimmy Mulville) arsing around in medieval dress, I also found the show funny(!) One scene I didn't like however was when my dad's character Badvoc's bloodied head appeared on a plate. Sorry: spoiler alert.
• Annie McGrath: Ambivert is on at Just the Tonic at The Mash House, 18:20.
Published: 12 Aug 2017
What do you think?