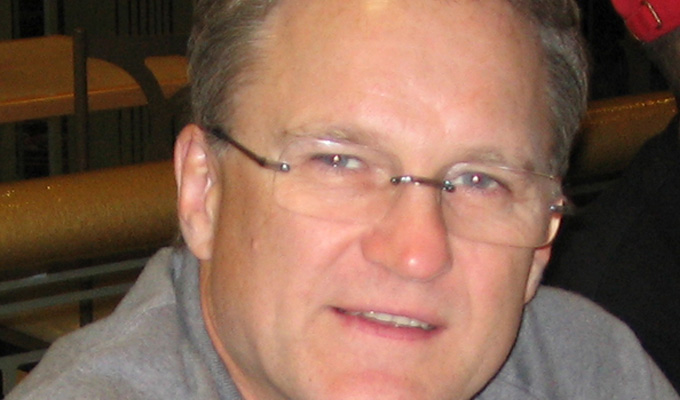 'One of the most remarkable comedic giants of our time'
In 1978 Richard Sparks wrote the schoolmaster sketch which Rowan Atkinson performed t in The Secret Policeman's Ball. Before that Richard had written four revues at the Edinburgh Fringe, including two Oxford Revues, which starred Mel Smith (the 1973 team is pictured below, with Sparks at the back). Later he was a writer on TV shows including Not the Nine O'Clock News. Now he returns to the Fringe for the first time in 40 years, having written and directed Margarita Dreams at Underbelly Med Quad. Here's his Perfect Playlist.
Duck Soup: The Mirror Scene (1941)
First place would go to Spike Milligan in Son of Oblomov – improvising entirely his own play while the rest of his poor cast struggled on with the script (corpsing helplessly in the background), and ten-year-old me in the audience in pain and tears from laughter. But no clip survives.
The Marx Brothers Go West was my first of their films – and, my father remembered, I really did roll in the aisles in the local flea-pit. Dad described watching Duck Soup in Cairo in 1941 – with Rommel fifty miles away and getting closer – in a cellar, full of exhausted British troops all roaring with laughter. This clip is physical and character comedy perfection.
When Harry Met Sally: 'I'll have what she's having!' (1989)
I love writing comic dialogue, but there is far more to comedy than the words. I interviewed body language experts for my second poker book, Getting Lucky, and learned that at least 60 per cent of communication is non-verbal. Which makes sense, when you think how easy it is to communicate with someone whose language you don't speak.
Radio might appear to be 'action-comedy' free, but it isn't. Growing up I loved I'm Sorry I'll Read That Again with its crazy sound effects working off the words. When body-language and story and situation and character and words meet, they amplify each other, and become so much more than the sum of their parts. A classic example is this one from When Harry Met Sally.
Acting is about re-acting and listening as much, if not more, than it is about doing and talking. The person who learns something in a scene has far more of a journey in that moment than the person giving the information. The reactions of Billy Crystal and Estelle Reiner ('I'll have what she's having') exploit the scene perfectly.
This Is Your Story: Sid Caesar and Carl Reiner (1954)
Estelle Reiner, mother of Rob (Director of When Harry Met Sally) sang live well into her 80s. Her husband, Carl Reiner, is one of the most remarkable comedic giants of our time. Now 95, Carl has had a career going back from the original Ocean's Eleven (as an actor, the 'Russian billionaire gambler') via Oh God and The Jerk (as a director), to The Dick Van Dyke Show (as creator and co-star).
He rose to fame in the legendary Your Show of Shows, starring Sid Caesar (1950-54). Staff writers on that show included Mel Brooks, Woody Allen and Neil Simon. Having been raised in England, I only came across this classic American TV institution decades later. The astonishing thing about it is that it was all live.
There is a poker night sketch that goes on for over 20 minutes. This one is a take-off of This Is Your Life. Carl plays the 'host' of the show trying valiantly to hold it all together. Sid Caesar is Al Duncie, the subject. All live. Prime Time. Fifty million people watching. Eleven minutes long! The cast carries it off triumphantly.
Robin Williams: The Late, Late Show (2011)
I was a huge fan of Not Only But Also, and even got to interview Peter Cook once (I need to find that tape. All you hear from me is off-camera snorting, while Peter just rambles brilliantly for 12 minutes).
When he heard I was going to Los Angeles, Peter told me to see Robin Williams live if I ever got the chance. One evening friends took us to the Comedy Store – a trial by third-rate 'comedians' I could have done without.
On the way out I saw Robin standing by himself at the bar. I introduced myself as a friend of Peter, told him what Peter had said and asked if he was going on that night. He wasn't – then looked around and said, 'Don't tell anyone, but I'm on here tomorrow at 11.'
Robin loved trying stuff out in small venues, unannounced. At 11 the next night, after yet another weak act, in a cramped room of about 30 disappointed tourists, the MC came on and said, 'Ladies and Gentlemen: we have a treat for you…' And oh, it was. Robin did not use a microphone. It was 1984, the year of the Los Angeles Olympics. He riffed on the topic for 20 astonishing, truly brilliant minutes. He charged around the audience combining base-stealing in baseball with hub-cap stealing – Pakistan versus Japan.
Mad voices, arguments breaking out with himself, an exasperated referee, a bench-emptying brawl, half of it bellowed from where he was crouching behind tables. Utter, incandescent bliss. No one recorded it, so instead here is the master of improv and mayhem, interviewed by another great comic talent, Craig Ferguson.
Steve Martin - Live At The Universal Amphitheatre (1979)
Talking of The Jerk (director Carl Reiner): Steve Martin.
I've almost met Steve a number of times. I was in Vegas playing in the World Series of Poker when my wife sat next to him at dinner in Michael Elias's house (Michael co-wrote The Jerk). Steve had just discovered online poker and was very intrigued.
I fell in love with the five-string banjo thanks to Steve, among others, and have been playing for 30 years (I'm nowhere near his level).
Marty Lanham, a maker of great guitars and banjos (Nashville Guitar Company), told me of Steve's first gig in Nashville in the early 1970s. He was employed to perform his banjo and comedy routine in a tiny club, where the stage was by the window to the street. Passers-by would look in, see something 'wild and crazy' going on, and maybe go inside to check the act out. Often Steve's evening started off with him playing to an empty room. Word got around though, and soon his shows were packed.
One evening, Marty remembers, Steve asked if anyone was hungry. People were. So Steve, playing the banjo, led the entire audience out of the club and down the street to McDonald's and bought everyone burgers. A few years later, Steve was soloing in arenas, see below. Like all great comedians, Steve reinvented the wheel. If you haven't read it, check out his excellent autobiography Born Standing Up.
Ken Campbell and Sylvester McCoy: The Secret Policeman's Ball (1979)
I cannot not mention the Pythons. I am so grateful for their body of work, and for all they have given us. Carl Reiner and Mel Brooks are both huge fans – they love English comedy. I can almost pretend I 'worked' with all of them – if you can count Rowan Atkinson doing a sketch I wrote in a show they were all involved in (The Secret Policeman's Ball). Terry Jones helped me get tickets to the Python reunion in London a few years ago, and that was a highlight of my life.
My final clip, though, goes to another troupe operating at that time, not so much on TV but all over the place live: Ken Campbell's Road Show. Ken was a comic force of nature. I saw some of his last shows – Ken Campbell's Meaning of Life; his Macbeth in pidgin English (hysterical, very moving); his History of Comedy: Part One, a one-man show at the National about his fascination with the world of ventriloquists and their 'knee pals'. All brilliant.
In Edinburgh in 1972 I saw the Great Marcel's one-man show, which he performed half in and half out of a motorcycle sidecar – to an audience of one. This enormous, bearded head inches from you, doing an hour-long puppet drama.
Marcel is here in this clip with Sylvester 'Dr Who' McCoy, David 'Time Bandits' Rappaport, and the great ringmaster himself, Ken Campbell, in their sequence in The Secret Policeman's Ball.
• Richard Sparks writes and directs Margarita Dreams, playing at the Underbelly Ermintrude, 14:00.
Published: 6 Aug 2017
What do you think?