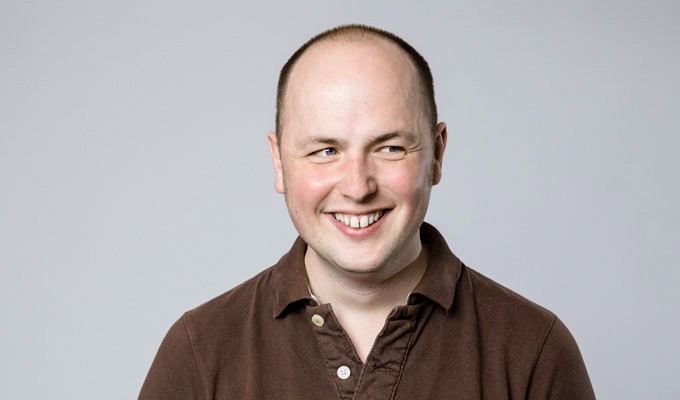 'Silliness among the depravity'
My new Radio 4 show Tom Parry's Fancy Dressed Life is a heady combo of stand-up and sitcom that is basically a year in the life of a bloke called Tom told through the fancy dress parties he attends, and what better way to celebrate than to choose five of my favourite fancy dress related moments in comedy?
Bottom: The Nativity
Bottom is by a country mile my favourite sitcom of all time. There is so much love and silliness in amongst the depravity and bleakness and the chemistry between Ade and Rik is absolutely priceless.
This genius moment where they build the tableaux so carefully and work to such a brilliant payoff is one of my favourite moments in comedy, and it's also a superb use of fancy dress.
Now, having watched it again, I realise that I sort of steal this moment in episode three of my radio show. In it we're at a Halloween party (part of every episode is set at a different fancy dress party that I'm attending) and three seemingly unrelated costumes build up to create one final image...
Hopefully no one will notice!
Only Fools and Horses: Batman and Robin
To me, this is the king of all fancy dress moments in British comedy. It is, of course, completely iconic and again it is beautifully set up and paid off.
What I love about this moment is it seems so obvious and yet still arrives as a delightful surprise when it happens. Only Fools and Horses was so good at this: spinning things off and letting them build up into to one massive, vintage moment.
Plus that moment when Rodney pounds his fist and says 'Del, let's go' is just terrific.
Red Dwarf: Dwayne Dibley
Red Dwarf was a pretty pivotal part of my comedy education. I would watch it religiously as a child and thought it was one of the cleverest, funniest things I had ever seen.
This moment is one of my all-time favourites and involves a fantastic costume. I know it's not quite fancy dress, but I'm counting it because for me it's the funniest costume reveal I can remember.
Plus I was a very goofy child so saw a lot of myself in Dwayne Dibley - I was obsessed with this character! It's the perfect inversion of everything we know and love about the character of Cat, and the costume delivers the joke before he actually says anything.
We Are Klang: The Dancing Horse
We Are Klang remains the funniest live sketch act I have ever seen. I cried laughing when I saw Klangbang at Edinburgh in 2006. They had a commitment to using really shit costumes that they had bought from fancy dress shops, but that just made what they were doing even funnier.
Their low-fi approach to costume didn't stop them committing massively to what they were doing though and this is one of my favourite sketches of all time.
Alan Partridge: Zombie
This is an absolutely vintage Partridge moment. I can still remember this TV series being an absolute television event for me and my housemates at uni. We just couldn't get over how good it was.
What I love about this clip is that Alan applies exactly the kind of homemade detail to fancy dress that I love. He's taken what he's got access to and made something brilliant with it. It's so much better than hiring a professional outfit!
* Tom Parry's Fancy Dressed Life starts on BBC Radio 4 at 11pm tomorrow.
Published: 4 Apr 2017
What do you think?