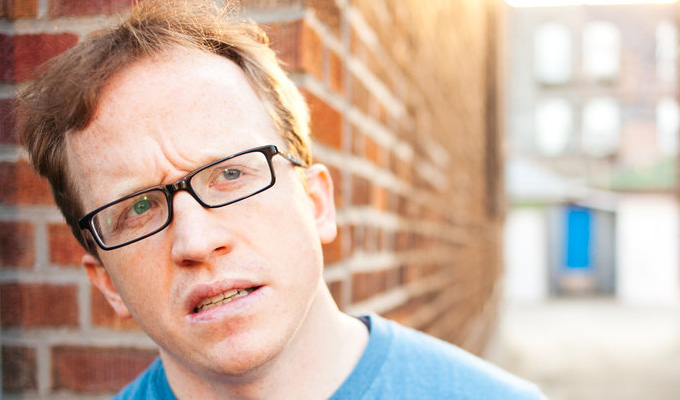 'I can only dream of doing stuff like this'
Thank you for allowing me to write about things I like! The first three are friends of mine who I think are doing some of the most consistent and delightful stuff out of my home base of New York these days. The last three are historical influences that I enjoy rambling about.
Womanhood
Jo Firestone and Aparna Nancherla are two of the best comedians in New York City these days. They're also two of the strangest, and when they teamed up on this web series I knew it was going to be odd and funny. I didn't anticipate that every episode would be like walking into a strange subversive Stepford Wives nightmare where two very funny ladies speak to the idea of womanhood in a way that is fascinating, hilarious, and confounding all at once.
Conner O'Malley
Conner is a friend but more importantly, a mad man. He's been making videos in character where he plays a pretty prototypical vision of the Trump supporting nightmare. He travels the US and puts himself in some ill-advised situations, and every time he makes one of these I laugh really hard but also pray that my friend doesn't get killed.
Julio Torres on SNL
Saturday Night Live is America's greatest comedy tradition, and it goes through waves of critical reception. When it really gets cooking it is one of the few shows that can still produce stuff that everybody watches.
Right now my pal Julio Torres is garnering a lot of acclaim for writing a series of sketches that are absurd and whimsical and odd and they're totally in his voice and I love them.
Julio is a great stand-up who has long been known around NYC as The Space Prince, and it's really incredible to see a show so traditionally mainstream allow him to do things his own way so consistently.
Andy Kaufman
My hero. I only dream of doing stuff that looks at comedy from so many different angles, that plays with audiences' expectations, and ignores the need for praise as much as Andy did with everything he did. No matter how old I get or how much comedy I do I always wind up holding myself to his standards and I always come up short.
Bloom County
This comic strip from the 1980s is like a comedy clinic. A lot of the references will probably be nonsense to a British reader, as many of them are so dated that they make little sense to an American reader.
That being said, if you can push past that this strip is like a masterclass in comedic timing. The blending of absurdism with subversive lines that make a point and go for the throat is really rare and commendable and beautiful.
Grosse Pointe Blank
I think this is the most underrated comedy movie of all time. It has the dumbest premise – a professional assassin attends his high school reunion – but proceeds to follow that up killer performances, unapologetic gags, super sharp writing, and most importantly an insane amount of heart. To me, that formula of  'a premise just on the verge of being dumb' merged with a real dedication to heart and integrity leads to a lot of gold.
I think this movie should be required viewing for anyone who loves comedy and it has sadly slipped through the cracks.
• Chris Gethard: Career Suicide is on at the Soho Theatre, London, from Monday until February 4.
Published: 17 Jan 2017
What do you think?