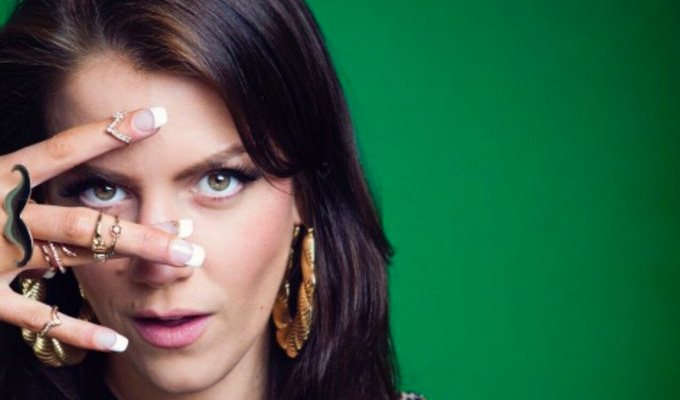 'Katherine Ryan is an inspiration'
Victoria Wood was one of those effervescent comedians who had the ability to cross boundaries with all ages. She could go into an old people's home or a youth club and the majority of the audience would be aching with laughter.
I often think about this sketch in particular and crack up. I love her physicality, her callouts, even the way she makes her hair bounce.
Comedy for me is about absolutely not giving a shit what you look like - which is difficult for me, coming from an acting background where we were trained to always leave the house looking pristine. But Victoria Wood was just wonderful at showing us her everything, lumps, bumps and comedy humps.
I know there are comedians who are very anti-props or costume and feel comedy should be as raw as possible. I hear that but when you see a sketch like this and realise Victoria has transformed a whole venue into a gym class in one second, I am definitely in favour of the odd prop or costume change.
I have always take inspiration from Victoria but especially in my new show Rent Girl, where I do a take off of my own version of this sketch. I just love it. It's classic fly-on-the-wall comedic genius.
Smack The Pony: Water Bottle Sketch
Smack The Pony was the reason I got into comedy. I remember being ten or 11 years old and sitting eating breakfast bleary-eyed after staying up most of the night scribbling down my own sketches.
When Smack the Pony happened in the late 1990s there were only handful of female acts about, Victoria Wood and French and Saunders, to name a couple but really, it was a man's world. It was a real risk for Caroline Leddy to commission this at that time, but one day I will thank her personally. It was fantastic, thank you, Caroline.
A show has got to be good if the Russians make their own version -– Women's League – right?
Smack the Pony came along and said: 'Hey, you know what? Women make great clowns, let them play a bit, improvise, see what they come up with.' At that time in comedy it opened the triple-bolted doors to other female comic/writers/ actresses; even just by giving them some courage. I was certainly one of those. It doesn't mean it's easier for females to get a commission now, oh no, but at least we can say: they did, why can't we?
David Brent: The Office
I was a huge fan of Ricky Gervais' David Brent, he's a little Hollywood-ed now but when The Office first came out I was blown away. His embodiment of Brent's desperation paired with egocentricity was absolutely spot-on. That's how you do a character.
They say write what you know and Gervais initially tried to make it in the music industry as a pop star with his band Seona Dancing. If you ever have five minutes watch the music video Bitter Heart, I challenge you not to laugh. I'd never say I'm glad someone's career failed but I am glad Seona Dancing didn't take David Brent from us.
Brent/Gervais has a dancing face. What I mean by that is he is one of those comedy actors who can make me laugh hysterically with an upper lip twitch, he doesn't need to say anything. There's always a plastic surgery story on the rumour-mill but I do hope Gervais never gets it. I'd hate for his lip twitch to be botoxed.
I've never known a show to be so quotable. Perhaps it was because I was at school when it came out so the takeaway quotes and impressions were ripe for the playground. This sketch, 'I think there's been a rape up there' was one of my favourites, look at their eyes. I mean seriously, just watch. Gets me every single time.
Margaret Cho - Gotham Comedy Club
Oh God I love her. She is so fierce, so funny and her lascivious way with words is divine. Here she is describing her vagina. Anyone that can describe their vagina like this for a straight two minutes, in my book, is a winner. Cho is an ageless anomaly with such a poise and grace, especially when she takes down bigots and homophobes, it's magical to watch.
She is hugely articulate, intelligent and a wonderfully impressive humanitarian and when I meet her one day (at a dinner party with Caroline Leddy) I will ask her who threads her eyebrows because they always look on fleek.
All in all, I say there is acres of room for many more ballsy, strong females in the comedy world and Cho shows us that it's OK to talk about fantasies, sexuality and get as surreal with it as we goddamn like. Oh and she had her own line of crotchless underwear for men and women. All markets covered.
When she followed me on Twitter I knew everything was going to be OK.
French & Saunders: Animal Control
I can't go a moment longer without talking more about French and Saunders. This Animal Control sketch in particular makes me hoot with laughter. Their characterisations are absolutely on-point physical comedy and Dawn French's boobs are wondrous.
French and Saunders were given one of the highest budgets ever in BBC history to create their show. That won't be happening again, clearly. But I'm so glad it did.
I've never been in the position to be in a double act but I'd certainly like to be… well, if it's anything like this. The way they work together is more like Sisters than colleagues, the teasing, the bickering and the way they are so in tune with each other means their comedy responses are flawless.
French and Saunders were the pinnacle of double act, female comedy. I don't think there are two women who separately and together have ever shared such success. Huge inspiration to me.
Katherine Ryan
We all have to have role models and Katherine is my Glam Role Model. Not only is she an absolute boss at off-the-cuff quips and one-liners she is also one of the kindest, friendliest people in the business and taught me absolutely not to give a fuck.
I dream of having a career like Katherine's from cooking shows to donning a huge foam ass, she's done it all. Oh, and if you follow her on Instagram you will get wardrobe envy every single day.
I love reading back stories of comedians, where they came from, what their previous job was. Obviously Katherine was a pageant queen back in the days but she's anything but primpy on stage. There's a clip of her way back doing a show at the Canal Cafe Theatre with the most basic of staging, lights and props, she's wearing a tutu, just because, and she confesses her right boob is bigger than her left because she's just finished breast-feeding and only one half of her body is down with it. So funny.
For me, Katherine is not only an inspiration career-wise but in terms of her attitude and selflessness she really does prove that being genuinely nice gets you a long way. Preach to that, sister.
• Maddy Anholt: Rent Girl is on at the Gilded Balloon Teviot at 17:30.
Published: 12 Aug 2016
What do you think?