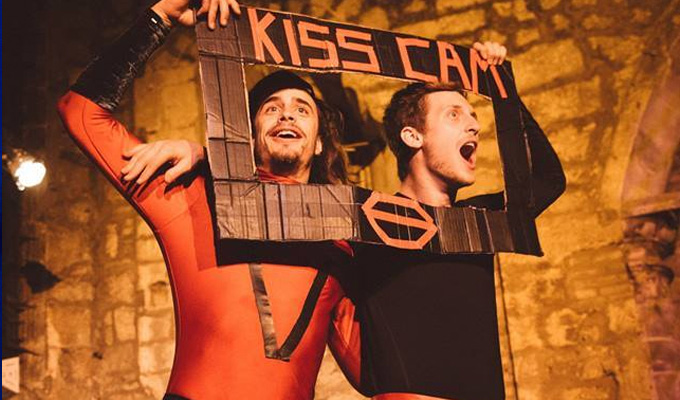 'The king of chaos'
Da Ali G Show
Perhaps the most daring performer of our time, Sacha Baron Cohen brought us a trio of characters that have cemented their legacy in comedy history. Ali G, Borat, and Brüno traveled the world playing everyone like fools and outsmarting geniuses by being the dumbest person in the room.
Whether it was seducing Ron Paul for a blow job or patriotically decreeing 'May George Bush drink the blood of every man, woman in child of Iraq', his show is a master class in clown and character comedy.
Ylvis
In Old Friends, Ylvis makes a song that is as touching as it is funny. Their meticulous sound and visual production show us that if you want to be an idiot, you can still do it well. They execute ridiculous ideas without cracking a smile and show that to parody a style you have to have mastered it first.
The Eric Andre Show
He's the king of chaos as comedy. From the moment the show starts you know exactly what you're getting into and it doesn't let up until the end. The comedy equivalent of cocaine, The Eric Andrew Show is eleven minutes of pure fun.
Larry David
Curb Your Enthusiasm is arguably an example of perfect comedic structure. Every move Larry makes comes back to haunt him in the end. He blurs the line between asshole and victim, and leaves the audience unsure whether or not we're crazy for being on his side. Curb has encouraged us to trust our inner voice that tells us to speak up when we see something ridiculous.
South Park
Matt Stone and Trey Parker taught us the most valuable lesson of show business: never compromise your ideas for the sake of marketability. For the past 18 years they've done exactly what they wanted and said exactly what they think, resulting in probably the most significant social satire in modern times. And unlike any other show with a near 20-year run, they've only improved.
Rick and Morty
Dan Harmon and Justin Roiland created the smartest show on television when they brought Rick and Morty to Adult Swim. It has an overt anarchist philosophy not only in it's approach to the subject matter of its episodes but also it's approach to comedy. 
The episode Rixty Minutes'is a great example because it breaks just about every rule of animated comedy. Justin Roiland created his half of the episode by doing stream of consciousness in front of a microphone for three hours and let them animate the best parts.
At the same time, Dan Harmon managed to create a genuinely affecting B-story, resulting in a 22 minute episode of brilliance.
• Zach & Viggo: Thunderflop is at Underbelly Cowgate at 17:20.
Published: 9 Aug 2016
What do you think?