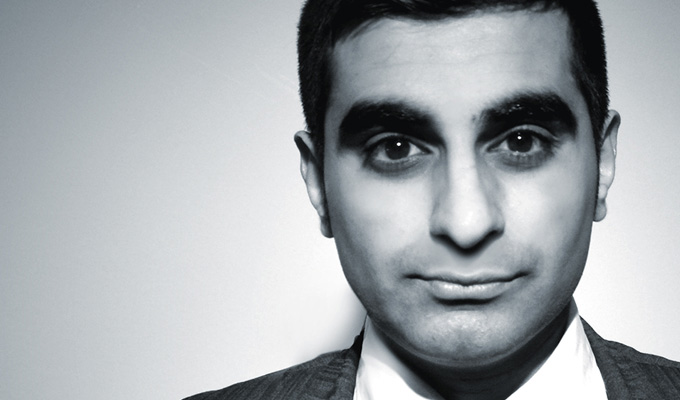 'I wish producers took more risks with brown talent'
South Park
South Park is my favourite TV show of all time. The writing is extraordinary and the characterisations by the hugely talented Trey Parker and Matt Stone make me so jealous.
It is probably my single biggest comedy influence. The ability to marry vicious social commentary with great acting and fart jokes, whilst pulling no punches and with every episode written and made in a week, it's... it's unparalleled. There is nothing like it. I have no time for people who dismiss it as crude and unintelligent.
This clip never fails to make me laugh. The audacity of Cartman!
Sholay
This is my favourite Bollywood film. It's an homage to the great spaghetti westerns and launched the career of the legendary Amitabh Bachchan, who topped a BBC poll to find the greatest star of stage or screen in the 20th Century.
To be clear, this isn't a comedy film, it's a serious action/drama with comedy in it. It's a film that blends real tragedy and menace with heart and comedy gold. I'd implore anyone reading this to seek it out.
Kevin Hart
I'd never really taken Kevin Hart seriously as a comedic force until last year when I watched his first special, I'm A Grown Little Man. This guy is so underrated in mainstream comedy circles in this country.
He's a fantastic storyteller with some absolutely stellar routines; his ostrich bit kills me. He deserves more respect, that's for certain.
This is the offending routine:
Four Lions
Chris Morris is a genius. When I first watched this I was blown away that someone could so accurately capture Northern Asian lads in such an authentic way. It was like watching a documentary at times. Of course it isn't, thank Allah!
I do love this film. It makes use of biting satire, great gags and great actors. I wish more writers and producers took risks with brown talent in this country, this film illustrates so powerfully the results.
Of all the side-splitting scenes in this film, this is my fave. 'IRA voice' looooooooooool.
Yes Minister
As a former civil servant this sitcom has a special place in my heart. Overtaken slightly by The Thick of It, it is still however completely relevant and ahead of its time.
The power balance has shifted from civil servants to special advisers, but Whitehall is still full of classic characters like Sir Humphrey Appleby.
And to demonstrate just how ahead of its time it was, watch this scene written in the early 80s:
Muhammad Ali
If The Greatest hadn't died recently I may not have immediately thought about him for this. He was immensely talented, pretty, charming, intelligent and funny. A real inspiration for young Muslims without a ton of mainstream role-models.
As legendary as his exploits in the ring were (and they really were), it's what he did outside the ring that ultimately defined him. His principles, his stand against the might of the US Government and of course his trash talking. He was a rapper way before Run DMC topped the charts and his faux arrogance and insults are a delight to listen to nearly 50 years later. His presence and 'stagecraft' is something that a lot of performers can learn from.
This is a great example of his rhyming and trash-talking skills:
• Tez Ilyas: Made in Britain is at the Pleasance Courtyard at 17:30.
Published: 8 Aug 2016
What do you think?