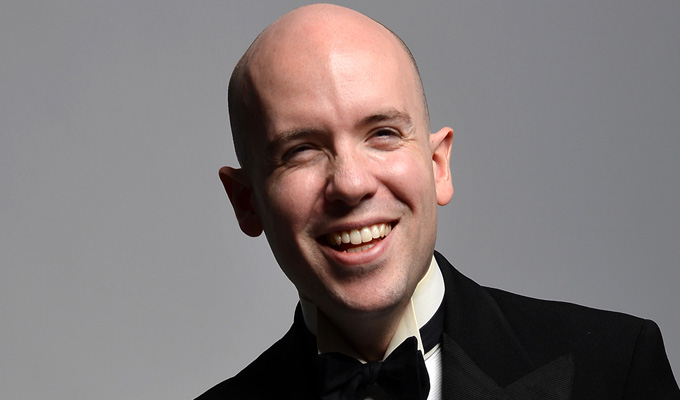 'The ultimate in tortured outsiders'
As a kid I always loved just anything funny - especially if it somehow represented something outside of the mainstream. Whether it was from someone old/dead or someone who clearly felt different I always gravitated towards them.
My mother, from whom I got everything I know about comedy, always made me watch things often taping them if they were on when I was in bed whether it was Spitting Image or a Carry On Film or French and Saunders or One Foot in the Grave or Victoria Wood.
Anyway, it's useful to have things to inspire in times of need…
Kind Hearts and Coronets
I first got into that most English of film genres, the Ealing Comedies, when I was a teenager. The little moments and details are always my favourite.
There's something of a world you have to invest in with this film - a world of eccentrics and silliness which is always narrated with absolute serious deadpan - I love that. Eccentric ridiculous people and everyone accepting them exactly as they are (you see it in Zucker Brothers films and 30 Rock, I find).
There's a moment when Alec Guinness is playing militant suffragette Lady Agatha D'Ascoyne (of the Ascoyne D'Ascoynes) and the seriousness with which she smashes in windows with her umbrella epitomises everything I find funny.
Kenneth Williams
Perhaps the ultimate in tortured outsiders, I must have watched his An Audience With… a million times. It's funny the way he languishes in telling a story - regardless of how ephemeral or nonsensical it is - and the audience is mesmerised. I guess because it is genuinely so alternative - to have someone indulge in all the details and moments of an anecdote which in reality has no consequence but to the teller means the world.
A complex man which I think adds so many layers to his work. The high-status loneliness smashed together with crushing self-deprecation sums up the feeling of being different; a single chair placed in the middle of the stage with the audience a safe distance somewhere over there…
Pete and Dud
Apparently Peter Cook wrote sketches in the time it took to perform them.
My favourite is called 'Lengths' about two people working in an office dealing with 'lengths'. The fact that most of the time we don't really understand who these people are or what they are talking about reinforces my belief that you don't have to understand everything about a situation or a person to find it funny. Comedy reaches across that - and you laugh because you just like who they are or what they're doing. And when Sybil Thorndike phones up ('Good luck with St Joan') it just adds to the hilarity.
Comedy is very human like that - it allows us to reach out and relate to people we might not understand. ('I can't talk cos he's here. I love you too…')
Frankie Howerd
Another famed outsider I love his playfulness with the audience - the way he loves telling them a story, taking them into his world. For me it's not really about what he says - merely that he's saying it.
There's a rhythm to it too. All of the details and the ridiculous tangents. I often find a lot of comedy is very musical. I love also that he freely engaged with the satire boom. I guess in someways he must've seemed very old fashioned to those That Was The Week That Was audiences but he made it work on his terms and there's no greater skill to have as a comic.
Alan Bennett
Not a stand-up, admittedly, but still a storyteller which has always been my favourite kind of comedian. It's a fine line between comedy and tragedy and it's that seamless treading between the two which I love about him. And also the details in the language - that every character seems to have their own list of words.
The throwaway comment being the most profound is such a powerful way to connect with the audience - like he, or one of his characters, is speaking directly to you. It's a use of language which I think you also see mastered by Victoria Wood and Peter Kay - the way that we communicate tells us everything.
As a teenager Talking Heads was a real revelation to me - I didn't know there were things like this about people like me, talking like my family.
Two Ronnies
I was obsessed with the Two Ronnies as a kid - the combination of deadpan seriousness, clever linguistics and then sheer daftness. I like the songs they did, especially the Orchestra one but I couldn't find it. This is one of my favourites too:
David Sedaris
Again, another storyteller who paints the world as he sees it. His live book readings are a form of stand-up I think, just with a lectern in front of him.
Maria Bamford
I went to Montreal's Just for Laughs when I was very new as a stand-up and the sheer scale of it terrified me, and I had lots of doubts about what I was doing there.
In one of the warm-up gigs I met another comic who seemed nervous and so we talked and I made sure I was in the room to watch her set. When she started talking about her family and her insecurities and her at-odds views of the world, in all their glorious details I suddenly remembered why I loved comedy. I still listen to her CDs for moral support.
• Tom Allen: Both Worlds is on at the Soho Theatre from February 11 to 13. Click here for tickers and more information.
Published: 25 Jan 2016
What do you think?