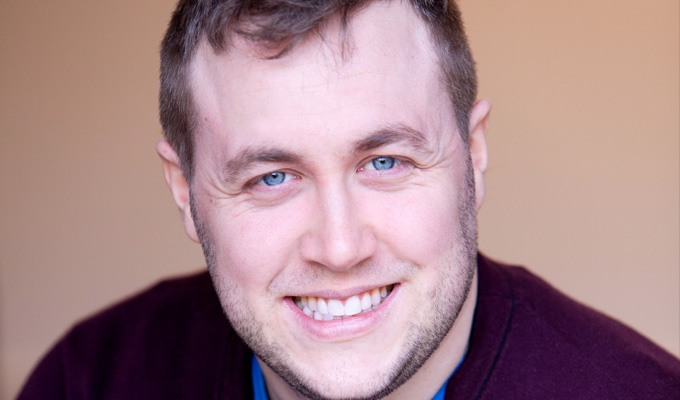 'I didn't realise stand-up could be so emotional'
Russ Abbott
My mum went back to work once me and my brothers were in school we used to go round my Grandad's a couple of times a week, he had two VHSes which we used to watch religiously. One was Lady and the Tramp and the other was the Russ Abbott Show. There were references in this show that I couldn't possibly have got yet I exploded with laughter every time I watched it.
The Lord Raglan's HQ sketch is Abbott at his finest utterly daft and wonderful.
The Office
You just couldn't be part of the gang at school if you hadn't watched The Office. David Brent was mimicked daily.
Even to this day if someone ever responds to a double entendre with a 'Oh' followed by a touch of their imaginary tie, I know I have made a friend for life.
Despite the dance getting the plaudits, the biggest laugh I ever gave The Office was when Brent role-plays at the training day. Gervais has his knockers but his comedic timing in this scene is simply genius.
Dave Gorman's Googlewhack Adventure
I don't think I would have become a comedian if it had not been for this show. An outstanding narrator who has the whole audience in the palm of his hand from the opening line till the close. I didn't realise stand-up could be so emotional about something that looking back on is fairly insignificant, it is just a sheer testament to the captivating and engaging presence of Mr Gorman. I cried and punched the air with delight at the conclusion of this show.
Father Ted
Ireland was a second home to me, and every single summer we would up sticks to go see my grandad in County Clare for three weeks. I used to sleep in an Ireland shirt just because Dougal did.
Father Ted contains in it some of the most brilliant written characters of all time, impeccably observed. I have met a Mrs Doyle, Father Jack, Tom, John and Mary. Graham Linehan and Arthur Matthews body of work is one of the all-time impressive comedy CVs, it is amazing to think that Father Ted is just one of many incredible shows these two have had their hand in.
Jasper is a legend, quite simply anytime I see Jasper Carrott on my telly I am reminded of watching him on TV as a little boy. He could make me roar just by a simple movement of his face.
The twelve days of Christmas song just speaks for itself, a simple hilarious song by one of the best comedians of all time.
Only Fools and Horses
When I think of watching comedy, I always think back to collapsing on the floor at Christmas 1996, laughing so hard till it hurt clutching my sides rolling around in absolute sheer delight, completely lost in the moment as a pair of plonkers ran round the backstreets of Peckham in a Batman and Robin costume.
Didn't think much of the prequels, and the last three episodes were unnecessary, but when Only Fools was on form there was none better than the Trotter brothers.
Tom Toal: Sunshine On Bexleyheath is on at the Pleasance Courtyard 20:30
Published: 25 Aug 2015
What do you think?