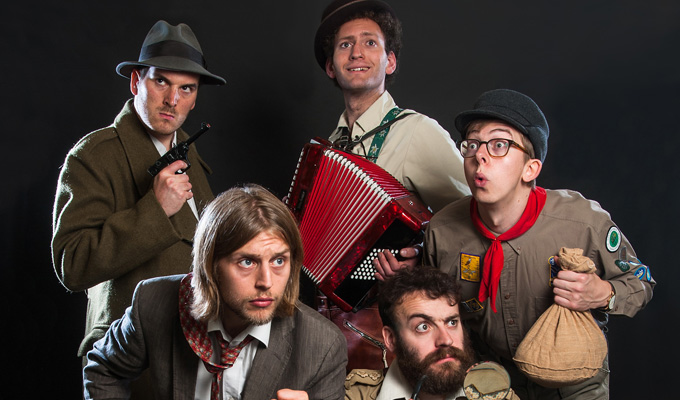 'A seedily irresistible clown'
The Day Today
There are five of us in the group and we've tried to settle on these clips by consensus, so I suppose this is a decent snapshot of where our comedy tastes intersect. We agreed on this one pretty quickly: we all bloody love The Day Today. It feels like it spawned a whole new arm of comedy – by which I don't mean news parody, that is just the form Chris Morris happened to inhabit, but through the language.
There are those iconoclastic portmanteaus ('paedogeddon', 'news filch'), the experimentally off-kilter emphases, and all-the-while each word is so deliciously weighted, judged to perfection.
In every absurd throwaway news headline you can just tell that the celebrity involved has been chosen so carefully – for the comedic cadence, the unlikely image, the rhythm. In improv you have to train yourself to instantaneously choose the funniest possible word, and this is a masterclass in comedic linguistics. This clip was largely chosen for the line: 'The shepherd/dog team also managed to avoid an o ld woman who was up a stick in a nearby field.' You could die happy after writing that.
Ross Noble
For at least a couple of us, Ross Noble was the first time we were exposed to the idea of free-form improvisation. Sure he has his through-lines – the stories he can always come back to – but Noble is a prime demonstration of the improv principle of listening. It just so happens that he is listening to himself.
He is constantly comedically vigilant, treating every phrase, no matter how inconsequential, as an opportunity for an extended riff. Did he just move his hand in an unusual way? Was his syntax muddled? The potential for comedy in every move and word is thoroughly explored, reincorporated, escalated to absurd peaks – it's like comedy Mindfulness. And isn't it grand that you can reverently refer to a stand-up-comedian's 'meat on the face bit'?
Hans Teeuwen
Hans Teeuwen is the kind of comedian that just blows everything you thought you knew about comedy out of the water. He's an astonishing thing to see live – a queasily brilliant pianist, a seedily irresistible clown, an unhinged wordsmith. Sometimes he flirts with dark socio-political commentary, but he is at his jaw-dropping best when you only have the slightest handle on what could possibly be going on in front of you.
Is his batshit diction down to the vagaries of Dutch translation? No, the absurd riffs seem far too carefully sculpted for that. It is almost with jealousy that you observe his imperiously confident control over all the most primal frequencies of finding comedy in the human body and vocabulary.
This clip doesn't quite do him justice; you don't fully get the sweat, the grunts, the sheer effort that goes into thrusting his utterly singular vision together. Hans Teeuwen's universe is utterly baffling, but in the funniest possible way.
Derek & Clive
You have to have a rapport for improv. You need a strong group dynamic, a shared comic sense. These two had that in bucketloads. It's just that they also loathed each other for a lot of it, and it couldn't be more competitive. In a way Derek & Clive is therapy – Peter Cook getting his revenge for Dudley Moore's Hollywood success. Being louder, ruder, funnier. Drowning out the little man.
We don't hate each other (although we are working on it), but we are much more competitive than many improv troupes. We help each other along, give each other space, but we are also pretty aggressive. You don't get away with any mistakes in Racing Minds. If we capture just a little bit of the wild juvenile abandon exhibited here we'll be pretty chuffed.
Monty Python
We all grew up loving Monty Python. Was there anyone who didn't? Even 25 years later it still felt risqué and revolutionary, as well as really, really funny. Our show title nods to them, but we don't set out to consciously allude to them in any other way. But I think they opened doors to be really silly and also really clever, and that is a door we have worn the hinges off.
In sketch I think the anxiety of influence might be too much when it comes to evoking Python, but improv feels more suited to channelling their spirit. Surreal asides are more tolerable, a constant barrage of high and low culture references is bread-and-butter, silly voices are a must. They also gave licence for jokes to be tediously extended far beyond logic, which is a lovely thing to be allowed to do. All in all they made the world of comedy a joyous place.
Joseph Morpurgo
We all met as part of the Oxford Imps, a short-form (Whose Line Is It Anyway-Style) improv group. This year the Imps turned 10, and hosted a massive anniversary show in Oxford with over 1,000 people in the audience. What was nice about taking stock was realising how many former Imps have gone on to pursue comedy careers, and how many are on the cusp of having a big impact.
Austentatious have won a Chortle Award, Ivo Graham is sneaking onto the telly with reticent regularity, Rachel Parris is racking up the accolades, Morgan & West are one of the biggest magic acts in the country, Robin & Partridge remain the trendiest salvo in outré sketch. There are many others.
Joseph Morpurgo was the director when several of us first joined, and he always had a strong improv vision, so I think he has helped to shape how we approach it quite a lot. As well as improv, he's now doing brilliantly peculiar high-concept character work that is linguistically delightful and delivered at a brazen tempo. This section of his Truthmouth show is a dazzling meshing of grand Miltonic prose and the lowest (but still funniest?) form of comedy – messy eating.
Published: 9 Aug 2015
Recent Perfect Playlist
What do you think?