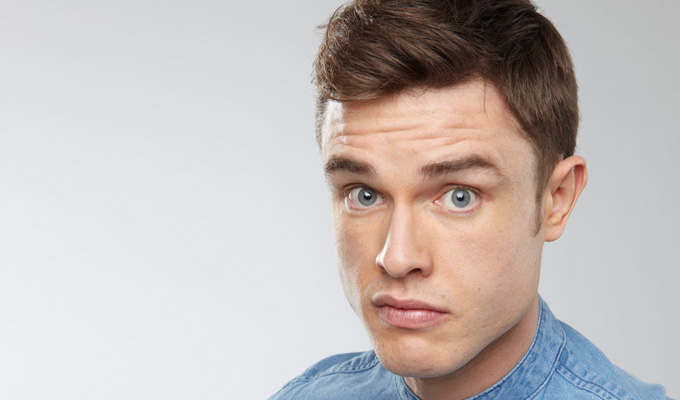 I picked it because he's drawn a beard on...
Preacher (Comic Book)
This is my favourite comic book of all time. Garth Ennis' writing paired with Steve Dillon's art is so gloriously over the top and utterly grotesque – yet delivered with such a wink to the reader that it never actually disgusts.
When I had just left university and didn't have a job I actually managed to bankrupt myself buying this book – I was that desperate to get the next trade. Makes me gasp with shock and scream with laughter – especially the characters of Arseface (a boy who survived his Kurt Cobain copycat suicide attempt, leaving his face looking like a butt) and Odin Quincannon (the owner of a meat processing plant who has sex with a giant woman he has made of meat.) An astonishing and epic piece of work.
Man On The Moon
One of my favourite films of all time which I watch at least twice a year. Looking up clips for it now it surprised me to see a lot of anti-Jim Carrey sentiment regarding his casting as Andy Kaufman – I think it's the performance of his career.
People are particularly protective of Kaufman's memory for good reason but I think Carrey is respectful and sensitive in his portrayal. Also, Courtney Love doesn't spoil the film, making it the performance of her career.
The Man Who Thinks He's It Tour
My Mum took me to see this tour when I was 13 and it had a profound influence on me. I remember laughing the loudest I had ever laughed and looking around and being distinctly proud that I understood the same jokes that all the adults were enjoying.
Looking back on it, I didn't get half the filth that Pauline Calf was spewing. The supporting cast was Simon Pegg and Julia Davis, and Pegg shone in the Duncan Thickett segment as an actor wearing big eyes.
The clip I've picked, however, is from the live video release (which I got for that Christmas, naturally). The live show was interspersed with backstage footage of Steve Coogan playing 'himself' and is one of my favourite examples of this convention.
Amazing Boy Bob
This is a ridiculous choice. It's a series of videos that a girls found on her computer that her little brother made. It's essentially a little lad who has learnt the words for some grown up things and is awkwardly playing at being a 'lad.' Makes me howl every time I watch it (which is a lot.)
There are three videos, all of which have their key phrases ('lad of all lads' 'let's smoke a beer') but I have picked this one because he has drawn a beard on and burps 55 seconds in. This deserves millions of views.
Before you watch – a quick footnote. He often refers to himself as RLB, which I remember reading somewhere stands for 'Rob Loves Boobs.'
Bossy Pants by Tina Fey (Audiobook)
Man, this has gotten me through some long drives home. Not content with being one of the funniest people alive, Tina Fey went and wrote one of the most brilliant autobiographies ever. The density of jokes is admirable and incredible – and manages to simultaneously give genuine insight into her life. The audiobook is especially worth seeking out – her reading of it adds a lot to an already excellent book.
It's Always Sunny In Philidelphia: The Nightman Cometh
I don't think there is a bad episode of this show. Absolutely reprehensible characters who care nothing for each other or anyone else – giving them licence to pack the show with more twisted and outrageous ideas per episode than any other sitcom would have in an entire run. The best thing Danny De Vito has done ever – and I don't say that lightly.
My favourite episode, though, is The Nightman Cometh – which concerns a musical that Charlie has written. I could try to describe it but it is so ridiculous that it would be better to watch it. The highlight is De Vito singing The Troll Toll. They did it live a few times in 2009 with Rhea Perlman as Gladys and I would give anything to have seen that. This clip shows some of the musical, but I would urge you go and watch the whole episode for context.
• Ed Gamble's stand-up show Gambletron 5000 is at London's Soho Theatre from Thursday to Saturday this week at 9pm. His new show Lawman will be at the Canon's Gait at the Edinburgh Fringe at 1.15pm. Website .
Published: 5 May 2015
What do you think?