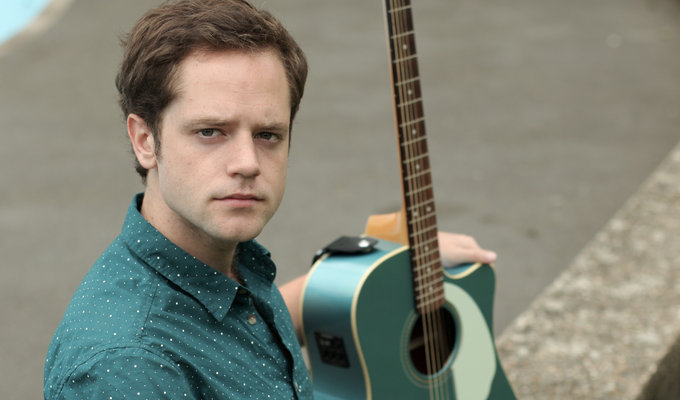 'One of the smartest, most relevant, comedy shows on TV'
This was really hard. Everyone should try and do it though, it makes you realise how much stuff you love! And you start asking yourself things like 'What film did I watch the most when I was little?' and coming up with answers like 'Michael Jackson's Moonwalker.'
South Park
My older brother liked South Park so it was sort of a hand-me-down at a pivotal point. It had swearing, violence, it was crudely animated. I loved it. Quick mum! Get me a Cartman T-shirt, ring-binder and mouse-pad.
Since then, somehow, it's become one of the smartest, most consistently relevant, even vital(?), comedy shows on TV. These guys are such brains, the way they tackle stuff, the way the show continues to evolve and remain hilarious long after its contemporaries have become stale. And they make the episodes in six days! Six?!
And of course they made Book Of Mormon, and remember that vomiting scene in Team America? Hahahaha.
I'm a big early Simpsons guy, I can hum the whole theme tune, but I can't say I look up when the new ones are coming out… The clip I've chosen is the medley from the SP movie, which I remember first watching in sleeping bags at a sleepover. It felt pretty damn naughty guys! Plus there was a boy from another school there who had a fake leg. A memorable night. The music is so good too. Damn.
Tim Key
Slutcracker was a real eureka moment for me. My now wife – then close friend – took me to see it and Jonny Sweet's Mostly About Arthur in a double bill at the Soho Theatre in 2010. Live comedy was very new to me, and I was yet to experience my first Fringe later that year (where my mind was opened by people like Sheeps, Bo Burnham, Colin Hoult and Nick Mohammed). I was sat front row for Key and he made me absolutely burst.
There was this one moment I remember, when he was reading a poem and he made a face as if to say 'Weird, but that's what's written down', like 'alright, mate' about his own poem. This one tiny expression has always stayed with me; I couldn't get over how brilliantly stupid it was. Pair him with Horne/Watson/Basden and I really get the giggles. The clip here is the caravan sequence of sketches from Cowards, because, well, ever heard of the phrase 'Ideal'?
Randy Newman
The guy has 20 Oscar nominations. Check. His romantic songs, oh so nice and good. Nilsson Sings Newman: my favourite record. But I include him here for his satirical songs.
Randy inspires me because he approaches songwriting like a short-story writer. He adopts characters (often villains) and sings from their point of view. He manages to write beautiful, puzzle-like, powerful songs about prejudice, religion, slavery, Karl Marx, serial killers, and greed.
He writes so sincerely that the songs often get taken at face value. There are actual people who think he's an actual bigot for his song Short People. A song about how LA kind of sucks is so deftly written that it gets played at Dodgers and Lakers games. Listen to his original versions of Mama Told Me Not To Come and You Can Leave Your Hat On and you will not believe they turned them into sexy hits.
Oh I just love love love him, guys, he's my favourite artist across the board, and yeah, he makes me laugh. I've got tickets to see him in October and I really hope he doesn't fucking die! I couldn't pick a favourite, so this clip is of that LA song. Bit of fun.
Brad Neely
Not quite sure who this guy is, but he is the creator of my favourite internet 'content'. I watch them all pretty regularly. It might take a couple to get into. Here's the site, and here's a quick one:
The People Who Edit Channel 4 Reality Entertainment Shows
This is what I watch when I watch TV with my wife. Come Dine With Me, Four In A Bed, Couples Come Dine With Me, The Undatables, The Hotel, First Dates, 16 Kids and Counting, Big Fat Gypsy wedding, and of course, TV format of the decade, Gogglebox.
Good scripted comedy will always be the shiz, guys, who doesn't love a bloody good script, but habits change… Right now, most of the time 'watching TV' means having a cup of tea and a chat and a laugh. And for that, not much beats real people.
The Simpsons
Oh who am I kidding I couldn't leave it out. I'm that generation that got home from school and watched five episodes every day on Channel 4 and Sky1. I guess you can still do that. I still do that. And have done for 15 years. And of course I love all the songs. And any episode with Phil Hartman. 'Ever hear of Planet Of The Apes?' 'The movie or the planet?' 'The brand new multi-million dollar musical and you… are starring… as the human' 'It's the part I was born to play, baby!'
• David Elms is performing his show Nurture Boy at Soho Theatre at 9pm on May 5 and 6. Tickets are available here.
Published: 24 Apr 2015
What do you think?