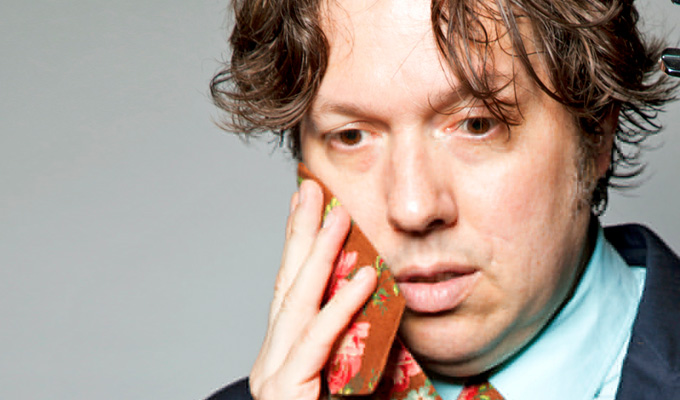 'Testament to the magic of television'
Greetings from Norway, where I am extremely jetlagged and also smell of fish, albeit for two mostly different reasons. Anyway, here's the Perfect Playlist I've come up with for you, lovely person on the Internet right now.
Chris Elliott as The Fugitive Guy Under the Seats on Late Night with David Letterman
Chris Elliott's appearances on Letterman over the years are perhaps my favourite comedy ever. It's hard to pick just one clip, so I cheated a bit and picked the time Chris combined his 'Fugitive Guy' character with his 'Guy Under the Seats' character. Electric.
The Breakfast Machine from Pee-Wee's Big Adventure
I love Pee-Wee Herman and remember seeing this movie in the cinema the day it came out when I was just a pretty young thing. This is one of the first scenes in the movie and I laughed so hard I nearly passed out right there in the cinema. I watch this movie at least a couple times a year to this day.
Fred Willard in Best in Show
I saw this movie three times in the cinema when it came out, the first two by myself. I love how Fred Willard steals the whole movie with his dog show colour commentary. Fred is a god.
Monty Python Silly Olympics Sketch
  My head almost exploded trying to pick just one Monty Python clip but I picked this one because I nearly wet my pants the first time I saw it as a kid.
Norman Mailer and Gore Vidal on the Dick Cavett Show
The Dick Cavett Show is one of the greatest things that ever happened. This episode where a drunken Norman Mailer goes at it with Gore Vidal is one of the many reasons. 
King Diamond on the Joe Franklin Show
I realise the late, great Joe Franklin is perhaps entirely unknown in the UK, but - trust me on this one - he is a god among men and one of the funniest people ever to have walked the earth (although not always intentionally). The time he had Danish satanic heavy metal master King Diamond on his show is not only emblematic of the ridiculous range of guests Joe had on his regional talk show, but also a testament to the magic of television in general. This is a mostly unintentionally hilarious clip. Please note that the other guest on the show is a 'rapping cop'. My favourite line is when Joe tells King Diamond about 'his other friends who follow his stuff'.
• Dave Hill: New York via Cockfosters is at the Aces and Eights Saloon Bar in Tufnell Park, London, from Monday to Friday this week with support acts including Tim Key, Aisling Bea, Nick Helm and Harry Hill.
Published: 18 Apr 2015
What do you think?