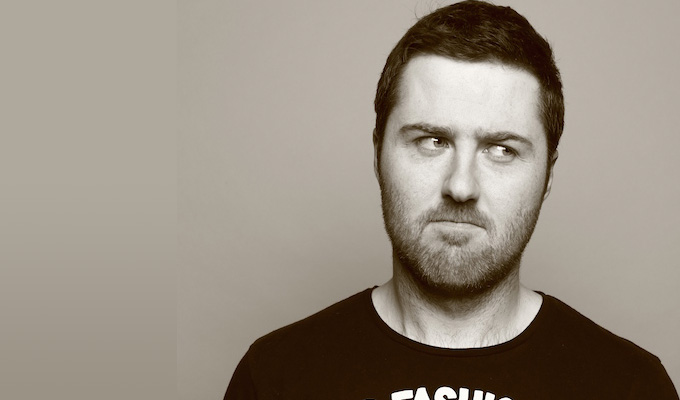 From Charlie Chaplin to, erm, Noel Edmonds
Hello there.
I tried to pick some stuff that meant a lot to me and also hasn't been chosen in Chortle's Perfect Playlist before, forcing me to regretfully have to cut both Norm Macdonald and Coconut Lady. So here it is, fill your boots.
One Froggy Evening
I grew up watching these Merrie Melodies cartoons. I think Chuck Jones was a genius and this, in my opinion, is the best thing he ever did. Seven glorious minutes, no dialogue, a masterclass in storytelling, comedy and tragedy. Steven Spielberg calls it 'The Citizen Kane of animated film', but you'll just remember it as 'The One With The Singing Frog'.
Modern Times (1936)
When you're a know-nothing teenager who thinks he knows it all, watching a black and white film from the 1930s where Charlie Chaplin does about two ounces of coke in one go is a bit of an eye opener. It's the drug scene Brian DePalma's Scarface wishes it had the balls to do.
There's just a wonderful physicality to it, the choreography of the bread snatching stuff, his liberal dosing of the "salt", his repeated use of the metal door at the end. It's just joyous.
Ted Taylor: Help The Bear
This isn't meant to be funny. And I really like the song. But it's a man singing in falsetto about how he's so hard that if you ever see him fighting a bear then you should provide assistance to the bear, rather than him. So it's hard not to laugh.
He's also really concerned with anyone who threatens to 'mess with his baby' and in the current UK climate, I think that's wise. To cap it all off, he then offers out ten gorillas at the end. It's the ne plus ultra of bragging songs, closely followed by Bo Diddley's Elephant Man, where Bo, in a rare moment of ego, personally claims to have invented the elephant.
The Framley Examiner
It's a spoof of local news written by Robin Halstead, Jason Hazeley, Alex Morris and Joel Morris and it probably has the most jokes of any book I own. The attention to detail is incredible and every time I pick it up, I find something new. If you like Charlie Brooker's TV Go Home, then pick up this. Seriously, right now you can get it for a penny on Amazon, and I'd say it's at least worth that.
Key And Peele: Substitute Teacher
Along with jazz documentaries about Clark Terry, Marks and Spencer mini flapjacks, and the comedic rule of three, this is one of the many things that the wonderful Cariad Lloyd has turned me on to. Unless We Are Klang make a sudden comeback, these guys are probably the pinnacle of sketch comedy right now.
The Existence of Noel Edmonds
I just find Edmonds inherently comical. Everything about him. The bizarre colouring of his beard hair. The platform boots he wears that look like they've been nicked off of a pirate mannequin in a waxwork museum. His now dilapidated theme park. His stated intention to buy the BBC. His belief that 'two melon-sized balls of spiritual energy' regularly visit him. His cult-leader like status on Deal or No Deal, where he tries to invest people randomly opening boxes with all the gravitas of Sophie's Choice.
I could go on, but instead, here's a segment from The Late Late Breakfast show where Noel makes light of a stunt car crash going badly wrong, and then after a second stunt crash appears to go even worse, he does what any professional broadcaster would do, and distract the audience from lingering thoughts of painful death by teasing them with news of Kid Creole's upcoming appearance on next week's show.
• Lloyd Langford is currently on tour with his show Old Fashioned, which visits Wrexham tomorrow. Dates
Published: 10 Mar 2015
What do you think?