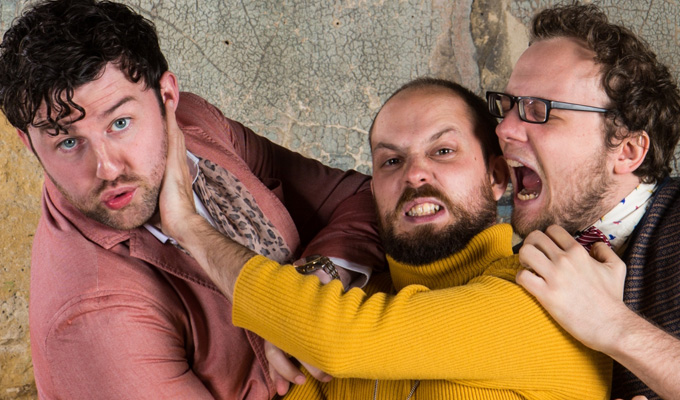 Comedy that makes you you laugh and think and feel
Owen Roberts's picks…
Big Train: Gymnastics
It's a clichéd thing to say, but when Big Train first came on television it was the programme you simply had to watch because everyone would be talking about it the next day at school.
I think it played a massive part in forming my sense of humour. Never before had I seen people take something so silly so seriously: the deadpan delivery of some absolutely ridiculous lines is just fantastic.
It was tough to choose a favourite sketch. I love the jockeys who want to be firefighters, the man who turns into a ventriloquists dummy, and Jesus and the Devil working in the same office, but in the end it had to be Gymnastics. Mark Heap is one of my comedy heroes and this is him at his absolute best.
Hanz Teeuwen: Little Ronnie
It was my first ever Edinburgh festival, and a friend of mine dragged me to see some Dutch comedian that I'd never heard of. I was hungover, sceptical and didn't particularly want to go.
What followed proved to be one of the best hours of live comedy I have ever seen. I've tried to describe Hans Teeuwen's style of comedy to other people many times and consistently completely failed - he is completely abstract in a wonderfully manic way.
Before I first saw him perform I didn't know you were allowed to do comedy like this: it was so irreverently weird, and didn't conform to any of the perceived rules I thought existed in comedy. What I learned from this was if something is funny it just is, you don't need to explain or rationalise it and it certainly doesn't need to make sense. That experience was also one of my first realisations that I loved the Edinburgh Festival. Every year I go, I discover something new, brilliant and absolutely unique.
Ciaran Dowd's picks…
Father Ted: A Christmassy Ted
I'm Irish, and as a true patriot, I have to choose Father Ted. It is a masterclass of the genre - Graham Linehan and Arthur Mathews can do no wrong in my sea blue eyes.
The world is so richly drawn, populated entirely by brilliantly funny idiots, and in the dysfunctional world of these characters everything becomes heightened, more exaggerated, more extreme. The everyday becomes epic, but it's a sort of homemade epic that I think we strive for in our work.
The set piece in A Christmassy Ted, surrounding a group of priests trapped in the lingerie section of a department store is a great example of this and the sort of filmic parodies they did so well.
Daniel Kitson: Stories For The Wobbly-Hearted
I came to the Edinburgh Fringe for the first time with my university, doing what was widely acknowledged as some of the worst theatre that's ever been made, if we'd had an audience they would have been well within their rights to walk out. And while there I had an introduction to Daniel Kitson that would ignite a love that still burns to this day. Has the relationship been tested at times? Sure. Abusive? I had it coming. Is it vaguely creepy sitting in the audience amongst his bearded, bespectacled, cardigan wearing disciples? Absolutely. But I'm one of them. 
It feels slightly redundant putting him on this list, he's nearly too obvious a choice, and I'm sure over the years there's been a lot written a lot better about his talents, and he hardly needs my endorsement, but it was either him or Series 7 Episode 4 of Mock The Week - it's an absolute corker.
I could have chosen any number of his shows, stand-up or story, and his best might be 66a Church Road, but you never forget your first time. Our director and best friend, Tom Parry talks about how a lot of comedy wants to make you laugh and think, but he prefers comedy that makes you laugh and feel. Daniel Kitson can make you laugh and think and feel, and seeing Stories For The Wobbly-Hearted was my first experience of comedy that was as beautiful as it was funny.
James McNicholas's picks…
Vic and Bob
No one has ever made me laugh like Vic and Bob. Choosing one sketch was tough, but I've gone for this clip from Shooting Stars, which I adored.
There's something brilliant about the anticipation of seeing Vic, in costume as boyband alter-ego MC Tyrehead, waiting for his moment to take centre stage. The suspense culminates in a synthesised sign-off that never fails to make me cry with laughter. I had this episode recorded on VHS, and eventually broke the tape due to repeated reviewing.
Bob Blackman: Mule Train
Bob Blackman's infamous 'tray' variety act remains a personal favourite. There's an obvious anarchy about it that I love. However, it's underpinned by absolute commitment: Bob's got his best suit on, and he's genuinely doing his best to sing that song. I always remember a bewigged John Kearns stating his own belief on the key to comedy: 'Don't blink.' Bob's not even close to blinking, despite the relentless buffeting from that tray.
My uncle Paul regularly invigorates family gatherings by impersonating this rackety act. Fortunately, he is blessed with a very durable head.
• Beasts perform Solo at the Soho Theatre, London, from tomorrow until Saturday.
Published: 5 Jan 2015
What do you think?