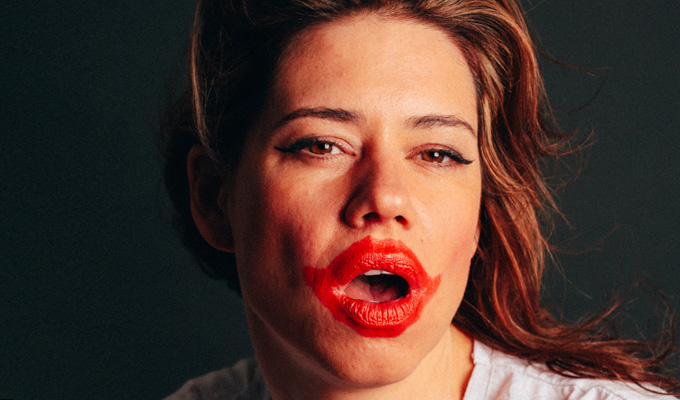 'She can't sing and she's got no rhythm but she doesn't care'
For me it's hard to watch telly when I've got a mirror.
When I do watch comedy, I watch the internet because I am really, very young and it's just how my generation does things.
Having said that, the one thing I would have picked from the television would be the exact same clip Tom Bell last week selected for his Perfect Playlist from The Armando Iannucci Shows. But Tom Bell's been there, done that and rung the bell.
So on we forge, with some other faves.
Kyle Mooney: Voices Sketch
Kyle Mooney's characters are really well observed, fun and silly. In this sketch he plays a slightly tragic stand up called 'Bruce'.
You can just imagine meeting Bruce. Some days you can just imagine being Bruce. And the jacket – its just so Bruce.
One of the reasons I think Kyle's so good is he seems to enjoy every moment of every performance. I'm not in to all this disconnected, aloof stuff, it's so much better when a performer fully gives themselves to it, and you can see a glint in the eye. Much like making love.
Cathy May: Let Me Hear You Say Wayhoo
A friend, Dan Berg introduced me to this when it was first released; he has his finger on the meme, big time.
This is an exceptional lady called Cathy May. I love her for her obscure taste in music, her pearl-detailed cardi and her coquettish enthusiasm. She can't sing and she's got no rhythm but she doesn't care for toffee. There's no ego or vanity here, she's just popped on her trusted cardigan, loaded up the song and given the sort of performance she's capable of before breakfast.
Lonely Island: Just 2 Guyz
This is an old sketch by Lonely Island. Always loved it, always will. Can't believe it was out so long ago. It hasn't really dated and that's how you know it's good (just like culottes).
The bit which really gets me is (1:05) when Akiva Schaffer says 'Now everybody in the house say "guy number one" and when Jorma Taccone joins in and says it, he looks SO delighted to be part of this two-man, hush-puppy-gang.
Bo Burnham's hour was insanely good. So polished and slick but so innovative. He gives such a big performance but he stays connected and self aware, playing to his strengths. So many strengths. He's wise and talented way beyond his years. It's got great structure, joke writing, songs, philosophy, surprise set pieces and showmanship. That is quite an unusual amount of boxes to tick and tick so well. He should call himself Show Burnham.
30 Rock
Tina Fey is amazing in every way. Her book Bossypants was inspirational and she actually makes a difference by sticking to her principals not just talking about them.
30 Rock has so many different kinds of humour; slapstick, surreal, character driven, and really, really well written jokes (and plots). I love how Jenna's character is still really likeable and hugely funny even though she's such a narcissistic immoral wretch. Something we can all strive for.
One line which stuck out for me is when Jack is waiting at an art gallery for Liz and he knowingly springs out just as she's coming in, she asks how he does that and he replies; 'To be perfectly honest, the first couple of people I did that to, were not you.' The delivery and timing is perfect.
• Lou Sanders in Another Great Show Again is on at the Soho Theatre from November 27 to 29 at 9.15pm.Details
Published: 12 Nov 2014
What do you think?