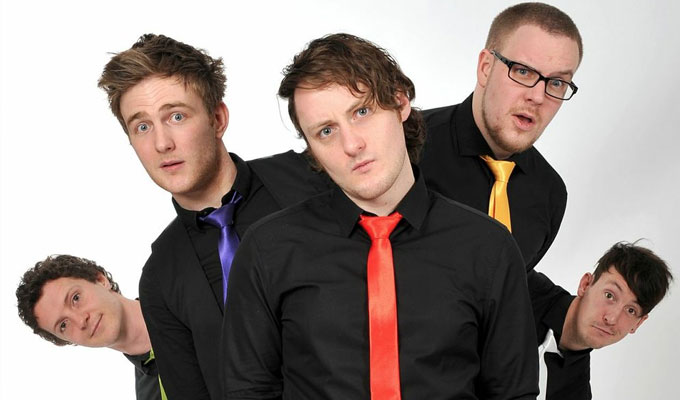 Wild characters with twisted scenes that ring with pathos
Whose Line Is It Anyway?
It's eye-rollingly obvious but Whose Line… was the first place we saw improv, it's what inspired us to give it a go, and it was the template we lovingly mimicked when we first started performing improv shows.
It was wonderfully simple but the performers were great. We all have different favourites - Ryan Stiles, Colin Mockerie, Greg Proops, Wayne Brady and Josie Lawrence - but it was the way they worked together that made it so entertaining. Inspirational indeed.
It's a bit embarrassing to put these guys on this list because we know them. You can rest assured that we'll deny all knowledge of this article when we next see them, but when we were starting out it was
Pappy's
who we wanted to be. The group is made up of great individuals who all know exactly what their role is, and their exceptional makes every show an unadulterated joy. It's that magic, that sense of abandon that we admire and are inspired by and try to rip off for our own personal gain.
The League of Gentlemen
Weird and wonderful. The performances of the central trio were of course pitch perfect but the writing was what lifted it above it's contemporaries. Wild characters with twisted scenes that still rang with pathos when they chose to turn the screw. The success of The League is also a great reminder that you don't have to go with the grain to create something so popular.
Jim Carrey - The Early Years
Love him or hate him (we love him, for the record) there's one thing you can't deny of Carrey. He COMMITS to his characters. The Mask, Ace Ventura, Dumb and Dumber. He throws every trick he knows into the mix - vocally, physically, emotionally. Sometimes in improv there can be a tendency to play everything a little dry but Carrey is our constant reminder that you can always do more.
Wes Anderson
On rather the other end of the scale, the director of Rushmore, The Royal Tennebaums, and The Grand Budapest Hotel (among many others) is, in our opinion, the only movie director with a flawless scorecard. Every film is a hit and has his indelible trademark on it. They are subtle, witty and full of warmth.
While our stage shows are nothing like the delicate musings of Anderson's characters we are nonetheless massively inspired to be better. When you watch a Wes Anderson film there is the sense of a master at work. We'd like our audience to feel like that. We can dream!
• The Noise Next Door's Comedy Lock-In is on at Pleasance Courtyard, 22:50
Published: 19 Aug 2014
What do you think?