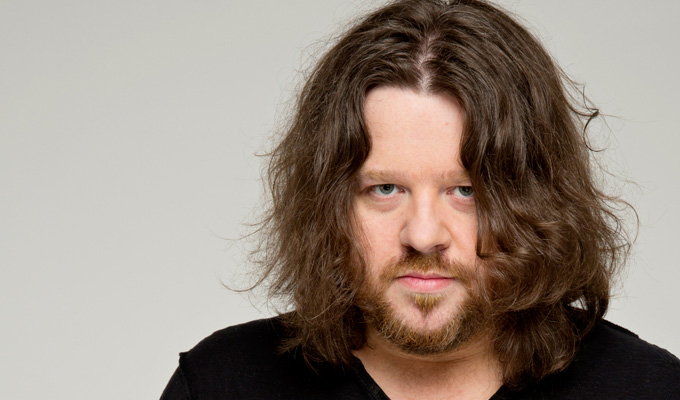 I love anyone who gives the finger to dull declarations of decency
Ed Gamble
I've included this for two reasons. First up, Ed is my best friend and without him I wouldn't have a Fringe show this year as most of the stories in it include him. I've spent the last two Fringes in our double act Peacock & Gamble and already this year it has been a slog not having my pal across the stage to misbehave with.
He's a very funny boy and you can see from this, admittedly early, stand-up quite how ace he is. The second, more important, reason is because I just went through to his room and asked him if he included me on his Perfect Playlist. His face dropped and he looked sad and said, 'I didn't think that's what it was about'. I did a sadder face and said that was really upsetting that he didn't think I was good enough to be included.
I ignored his protestations, as I was about to cry. Which means if you are a P&G fan and could only see one of our shows then you may want to support the one that is clearly a nicer boy (me).
Karate Johnson
Right, this here, this is the only thing in the whole world that I genuinely can't not laugh at. It makes me laugh every single time. It's Tom Meeten who I think has been one of the most underrated performers forever, even though he has consistently worked and has a stupidly massive CV. He also has some balls on him, which is always to be applauded.
Kermit & Fozzie - Good Grief, The Comedian's A Bear
So, Muppet snob that I am, I always watch this and think I am watching Jim Henson and Frank Oz - that's particularly why I enjoy it, and probably why the Disney Muppets make me roll my eyes for the most part - they don't have the same soul.
So any combination of Henson and Oz like this or Rowlf and Fozzie will always get me smirking. They also invariably have moments of spontaneity in them, I'm confident that 'Don't grumble' was improvised and when Fozzie calls Kermit 'Frog of my heart' I 'awwww" every time. On the Muppet Show album version of this joke you can hear the other performers laughing off mic if you listen carefully.
Lenny Bruce
I've been watching and listening to a lot of Lenny Bruce just recently as he was my nomination on Radio 4's Great Lives (broadcasts on 19 August), so did a refresher course. He gives me a headache eventually and whenever I look over his story I invariably end up getting angry at how he was knocked about from pillar to post.
That said, he is simply brilliant as a force of nature, absolutely a class apart. I was asked if Lenny Bruce was offensive and my reply was 'it depends at which point you stop listening'. Felt smug with that response, but it was bang on the money in this bit…
Tiger Lillies
As my show this year is about being a mischief maker I've been listening to a lot of Tiger Lillies. I say that as if I don't normally, in all honesty, listen to them all the time.
I am massive fan of anyone who stands there and gives the finger to dull declarations of decency. They're an amazing band, self sufficient, always touring and constantly creating with staggering innovation. And they are very very funny - Martyn's comment about the crown of thorns in this song is one of the most childish and succinct displays of nastiness I've ever guffawed at.
Frank Sidebottom
Oh God he was funny. Why is he not a thing any more? How is that possibly fair? I used to go to the Citadel in St Helens in my youth and howl as he went on and on and on. When people didn't get it I would laugh even more.
Never happier than somebody being rubbish really well, like Brian Gittins does now, like we tried to do with Peacock & Gamble, and I think the main reason I enjoy it is because once in a while a professional amateur will uppercut you as an audience member and show just how smart they really are, and this clip shows Sidebottom delivering some amazingly funny and clever lines among the anarchy.
Plus, anything that kicks Ringo Starr in the shins is OK by me. I bet he's wandering around Liverpool as we speak, absolutely desperate to sign an autograph…
• Ray Peacock: Here Comes Trouble, Underbelly Bristo Square, 21:25
Published: 12 Aug 2014
What do you think?