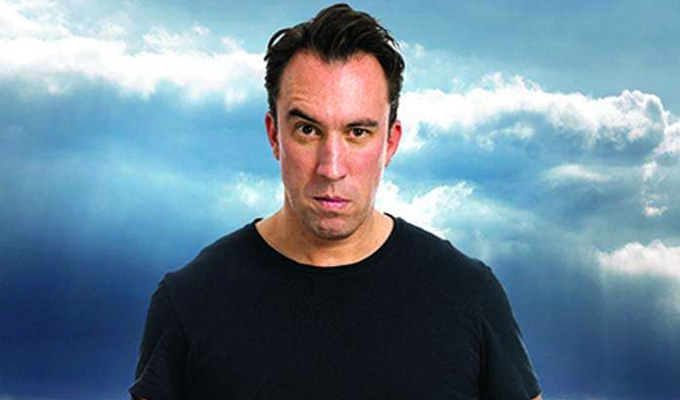 'It's a bold performer who risks the audience's disapproval'
I'm a newbie to stand up. I've been sat down trying to make people laugh at 6 am for 16 years. Some of the people that inspired me to get out of my little broom cupboard are below.
Bill Burr
Burr is an awesome true stand up. By that I mean he isn't afraid to take a topic that many people would shy away from and even if its a well mined area, he always nails it better and finds something different. I could pick many clips from his specials but I've gone for this from a legendary Conan appearance; you can see Conan shocked but in awe of watching Burr just say the unsayable. This is on a topic that many comics have done gags on but Burr shows his take on Lance Armstrong.
Mike Birbiglia
I saw Mike live when he came over and loved how he moved from traditional stand-up with jokes to a longer more immersive form of comedy. He's a great physical performer to who isn't afraid to show his vulnerability but – equally brave – his darker, crueler sides. Most stand-ups want to be liked up there so it's a bold performer who risks the audience's disapproval at times. This is from his recent special about the Waltzer, or what Americans call 'The Scrambler'.
Louis CK
Where do I start? I saw him at Hammersmith when he came over and had the same slack-jawed awe when i saw Billy Connolly in the same venue 20-odd years ago for the first time. What he had, apart from being a truly world class stand-up, is real heart and humanity. This clip isn't from a special. It shows his intelligence and how he can go deeper than most comics.
Dave Attell
Love his new special Roadwork. Another great stone-cold killer stand-up who says the most filthy, disgusting things with such commitment and throwaway charm. If you can even have whatever that is! His schtick of hard-drinking and loving could be cliched, but isn't
Norm McDonald
I can't even begin to describe what make him so funny. He is just brilliant.
Marc Maron
His story offstage is such a part of his presence on stage. He takes you on a guided tour of his inner demons and fears and what could leave you cold leaves you feeling less lonely in the world. I saw him a few years ago, and he just went through his notes and it was like watching a masterclass in stand-up. Like no one else.
• Christian O'Connell: Breaking Dad is on at the Underbelly Bristo Square at 18:25 until August 16
Published: 31 Jul 2014
What do you think?