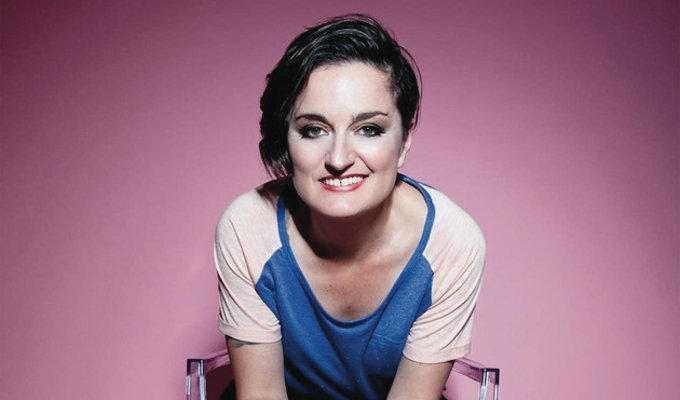 It is impossible to hear the Ying Tong Song and not feel utter joy
There is a very special point when you are a kid when you start laughing at the same stuff as grown-ups. Comedy is such a great connector of people and some of my earliest memories are of being allowed to stay up late (way past 9pm) to watch some shows with my folks. Sitting there, close to the heater in my highly flammable 1970s polyester and asbestos mix pyjamas I got such a buzz from being allowed to be part of the proceedings. My Dad, like me now, has a real love of the slightly silly and over the top brand of comedy.
Dick Emery
Dick Emery was a big influence on my childhood. We loved to watch his show together. I used to refuse to go to bed at night until my Dad had stood me on the end of the bed, I would turn to him and say the line, 'Ohhh you are awful' and my Dad would then deliver the next line, 'But I like you!.' He would then push me so I went flying back on the bed. It was our version of a bedtime story.
Pink Panther
Dad is a big fan of the Pink Panther movies and they are the first films I remember watching with him. I just adore Peter Sellers as Inspector Clouseau. Dad would fall about at the Cato scenes when his assistant would attack him out of the blue. My all time favourite scene is from Pink Panther Strikes Again. 'Does your dog bite?' The delivery is perfect.
The Goons
We used to listen to comedy quite a bit in the car. I would sit in the back seat off the old Fiat, my legs sticking to the plastic upholstery in the summer heat and Dad would pop on a cassette. The Goons was a favourite of his. It is impossible to listen to the Ying Tong Song and not feel utter joy.
Fawlty Towers
Fawlty Towers is quite simply a British comedy classic. I was only eight years old when the second series originally went to air but the excitement each week in the Lyons household was palpable. I would sit there with my Dad awaiting the opening scene with the misspelt hotel sign. Dad still does a very convincing Sybil Fawlty impression.... 'Ohhhh I knowwww.' I think the scene where Basil beats the crap out of his car with a branch is our favourite.
Young Frankenstein
As I said I inherited my love of the silly from my father and Mel Brooks delivered silly by the bucketload. Dad would take Mum to the cinema when I was a kid and bring back tales of the films they had watched. The infamous farting scene from Blazing Saddles and dancing Nazis in the Producers but when I finally got to see these films with Dad it was Young Frankenstein that blew me away. Full of ridiculous jokes, 'Werewolf!' 'Therewolf' I loved it more than any film I had ever seen... still do.
• Zoe Lyons: Mustard Cutter is on at the Gilded Balloon, 19:00
Published: 29 Jul 2014
I have a lot to thank my father for, my pointy profile, my appreciation of the great outdoors but mostly my love of comedy. Although not a natural teller of jokes, my Dad as has glorious touch of eccentricity about him that is beautifully comedic. He is the man who takes coat hangers with him when he goes camping and once went skiing wearing an offshore survival suit and a pair of pink marigold gloves.
What do you think?