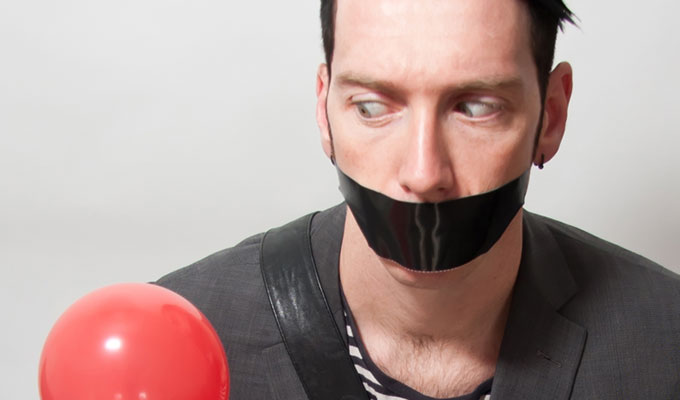 So I started focusing on what I was saying...
Donald and Daffy
I have always loved cartoons and when Who Framed Roger Rabbit hit the screens it was a vision of a world that I would quite happily live in. This clip of Donald and Daffy is the only time they ever worked together but either one of them I would be happy to share a stage with.
Penn and Teller...with John Cleese
Penn and Teller made magic cool for me. Slick scripting and routines that have managed to last over time. The brilliant idea of something so small as a pack of cards with a big visual of Teller's potential death and throw into the mix John Cleese makes this a routine that I have watched over and over again.
Michael Davis on The Paul Daniels show
For a time I planned to be a juggler in Las Vegas. As a juggler my intention was to perform the most highly skilled, complicated technical wizardry of juggling routines. It was when I saw Michael Davis get bigger and better response for just being funny and using the juggling as the device when I started focusing on what I was saying and not on how many objects I had in the air (The tape came later).
Jim Rose
http://www.youtube.com/watch?v=dZ7Jt9nXzZk
As a street performer the style I loved the most was that of Mr Jim Rose. A true carney who can take some of the simplest circus sideshow stunts and make them seem to be the most exciting event you have ever witnessed. 'It's time for some entertainment that is Live, Real, Raw and Dangerous' Mr Rose, I 100 per cent agree with you...
Buster Keaton
What can I say? He is simply brilliant. People think that because I perform silent comedy that I must love Charlie Chaplin. I am not a fan of his at all. For me Buster was King. All hail the King!
Rowan Atkinson
I have to include this one as this is the Rowan Atkinson I love. Mr Bean took over the world but the pure comedy character that is the physical Rowan Atkinson is a genius.
• The Boy With Tape On His Face presents Cornucopia at the Palace Theatre London on Monday December 16. Tickets.
Published: 6 Dec 2013
What do you think?