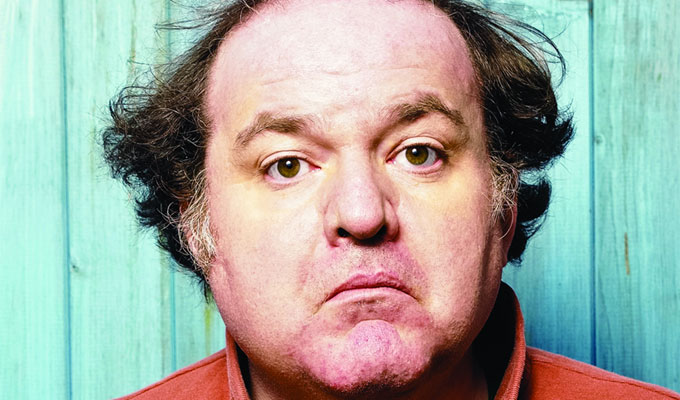 'The last act of a great clown...'
I am known as an anti-comedian, so it's probably not surprising some of the people and moments I've chosen easily fit into this category  It's impossible to say if I'm influenced by any these amazing people, but I will always be their fan.
I would also say - I am probably not the best person in the world to write about the art of comedy (or indeed write comedy?!) so I hope my enthusiasm comes through by possibly osmosis or the clips or their reputations alone maybe...
I have listed them in a rough chronological order for no reason:
1. Roy Kinnear
For those who don't know or have forgotten Roy Kinnear - He was a much underrated comedy character actor who seemed to have a supporting role in every British film, sitcom, sketch show or advert in the 1970s.
When I was a kid, it didn't really matter what he was appearing in, he was always the same; small, round, and slightly crooked. Botching every job and dishonestly walking away from every disaster. 
In the real world, he was a very successful comic actor. But in my heart it felt like he was an undistinguished member of my own family as in: 'You see your Uncle Roy over there, on the spoons, don't give him any more wine...'
2. Peter Sellers in Being There
I have always loved watching and listening to Peter Sellers from the Goons, to The Lavender Hill Mob, to Dr Stangelove, to the Pink Panther films. 
Having heard about his life its difficult now to reconcile myself to loving his work. However in some ways watching a film is time away from reality. So I think you have to divorce the man from the great comedian.
Being There was his last film, and you can see physically he's not well.
It's a surreal, bizarre almost magical film; about a simple-minded gardener who through random chance becomes the President of the United States. The Jerzy Kosiński plot works on a number of different levels, although I am still not 100 per cent sure which ones they are.
In real life Sellers's career was over at that point. He was a flop at the box office. The film itself was considered unmakeable and possibly insane. He championed its cause and produced a brilliant performance. The last act of a great clown. A bitter-sweet ending to a brilliant career. Whether reality and myth are the same it doesn't matter - I bought the myth.
3. Rick Mayall as Kevin Turvey 
When I first saw Kevin Turvey on TV it was before I was aware of alternative comedy and the first time I became aware there was something beyond the world of the Two Ronnies. I remember thinking this is the best thing I've seen in years. Kevin Turvey was a huge breath of fresh air. 
Rik Mayall seemed to have a kind of wild limitless energy which could win every moment over for me. Throughout the 80s he was a totally unstoppable force. He, more than anyone else, summed up alternative comedy for me.
Kevin Turvey investigated something new each week, just a normal Brummie lad taking on all the issues, one week it would be Tarmac and the next death or depression....
It felt very loosely unscripted and he seemed to say anything which came into his head.
Which proved to me at that point that Rik Mayall was not only part of my generation, as opposed to the Two Ronnies, but also absolutely anything was possible.
4. Chris Morris: The Day Today/Brass Eye
The Day Today and its follow-up Brass Eye brilliantly observed the obsession we had with television news and current affairs at that time. Almost how if it was presented in certain way we would believe anything we were told. The news at that point was very puffed up, pompous and even arrogant
Chris Morris and Armando Iannucci brilliantly observed its complete madness. But more than that they did what I would have loved to have done - they were young and they made fun of the grown-ups. Their complete lack of respect for their elders and betters was pure dynamite. 
They found Members of Parliament and celebrities to say and do silly things - revealing them to be more in search of the limelight than hard principles. 
They re-created news programmes in a way that made them look like surreal nonsense and nothing more than the sum of their inconsequential parts. Chris Morris's Paxman-esque persona was brilliant combined with early Alan Partridge et al
The really sad thing is he was a true revolutionary and in one way or another he was playing with fire. He ended up being removed from his platform so everyone else could get on with their lives.
Shine on...
5. Tim and Eric
I was introduced, by a friend, to Tim and Eric about a year ago - and I think they're amazing.
I saw Tim and Eric's Billion Dollar Movie recently and to me these guys are the future. They are a traditional double act, but with a very modern twist.
Great comedy is often childlike and if you look at the number of fresh ideas they put into each scene it's awe-inspiring. There's something about their "made at home approach" that makes you believe comedy is very simple and easy... I wish
Will Ferrell produced their film and I can see a lot of similarities in his films. Tim and Eric have got everything and I hope they continue getting better.
• Edward Aczel Lives In A Meaningless Shed, is at Soho Theatre from tomorrow until November 16.
Published: 11 Nov 2013
What do you think?