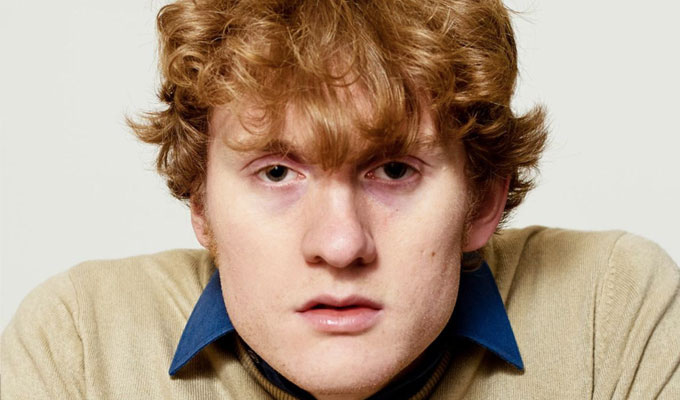 'You need to feel like it could go wrong to really get the most out of stand-up'
Calvin and Hobbes
Bill Watterson created a wonderful world with just the right balance of gags, imagination and pathos.  Calvin's limitless confidence in every opinion and idea he has, no matter what literally everyone else in his life is saying to him is just fantastic.  In one strip Calvin has set up a see-saw by putting a plank on a rock and has placed a giant snowball on one end, he jumps on it and the snowball flies in the air and lands on him, while he is laying on the ground he says 'I meant to do that' and Hobbes, standing over him, says 'Well then it worked very well.'  I can't quite explain why but that is one of my favourite jokes. 
Eddie Izzard: Dress To Kill
This was the first Eddie Izzard stand up I saw, I was 17 I think.  I remember being completely unsure at the top and by the end thinking it was amazing and instantly wanting to watch it again.  I think it's very hard to capture the live experience on camera and for me, part of the live comedy experience as an audience member is not knowing if it's going to go well or not then being overjoyed when it turns out to be brilliant. 
Most DVDs edit out all the doubt so that viewers at home just get the big laughs.  There is a bit early on in Dress to Kill that doesn't quite work and he mimes writing, 'Never do that bit again' on his hand.  Whether or not he always did that is irrelevant, it made me feel like I wasn't watching a string of bulletproof routines (even though I was) and so made the whole show more of an experience. 
I felt the same watching Richard Pryor Live in Concert when he comes out and the audience haven't all sat down yet.  I think you need to feel like it could go wrong to really get the most out of stand-up comedy.
Lonely Island
I'm really obsessed with them and I genuinely like their new album as an actual music album.  I think that's a bad thing, like I'm losing touch with what good music really is but I best not analyse it too much or I will ruin music and comedy for myself. 
I think their attention to detail with the production of the songs and the videos is perfect, their choice of guest stars too.  There is a song called Reba that contains the line 'Ever since I came out my momma's butt I knew I was destined for greatness,' I hope I never don't find that funny.
I could try and intellectualise it but really I just find people singing about butts really funny and I like singing along to catchy songs.  That's it.
This is Spinal Tap
I first saw This is Spinal Tap when I was 14 and didn't find it funny at all.  Then for some reason my brother and I started quoting it to each other despite the fact we both thought the film was boring. It was weird finding these quotes so hilarious when we didn't get the film at all but we found them so funny that we decided to watch the film again and I've never laughed so much in my life. 
I then took my video of the film, which I had recorded off on the tele, round to all of my friend's houses and made them watch it.  I think I watched it every day of the summer because I had to force some friends to watch it more than once.  I then started to drum in local bands for about seven years so the quotes never stopped. 
A friend's mum bought the book for me one birthday, I had never heard of Dave Gorman at that point and I didn't know that this sort of comedy existed either, where someone could do something remarkable or unusual and write about it (I know it sounds stupid to not know that existed but I was but a teenager.) 
I not only found the book extremely funny but also would feel energised each time I read it, maybe because of the age I was, it was so refreshing to read a book about throwing yourself into something utterly pointless simply because you want to.  Being an adult seems very daunting when you're a teenager so seeing a grown up doing something so silly and yet so life affirming was a huge relief.  It was just nice to know I didn't have to say goodbye to that all together.
The Office (UK & US)
I watched The Office non-stop when it came out on DVD, again quoting it as I had Spinal Tap so when the US version came out I was furious. 
And then I did the same as most people in that I ignored it until someone I trusted told me it was actually pretty funny but you have to get through Season One because they made it too similar to the UK version but after that it really comes into its own. So I did that and then it took up most of my life because the direction they take it in is completely different to the original while staying true to the spirit of it somehow. 
The main difference with the US Office is the way they develop the relationship between everyone in the office, they all end up pulling together a lot more and so most of the laughs come from how nice they are to each or how much they like each other other rather than them being dicks to one another. 
I think it highlights the difference in what's funny about the English and what's funny about the Americans.  Both versions of the Office are incredible and show what each country is best at. 
• James Acaster is touring his show Lawnmower, nominated for an Edinburgh Comedy Award this year, from next month. Dates.  
Published: 18 Sep 2013
What do you think?