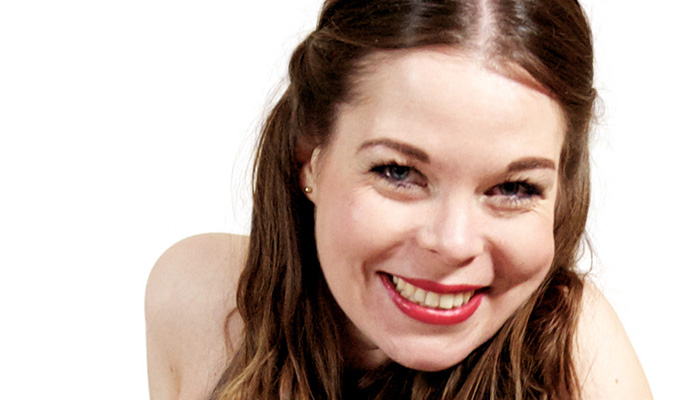 'My burning loins have determined my comedic tastes'
Vicar of Dibley
It might not be cool or edgy but Dawn French was a great role model for an overweight 10-year-old girl like me! The humour is innocent yet cheeky and there are great comic performances from a tight-knit ensemble cast.
Spaced
Spaced ticks all my boxes: strong and funny female characters, intriguing but realistic relationships in an ensemble cast, fast cuts and surreal storytelling.  My love of Spaced led to a passionate love of the Cornetto Trilogy – aka Shaun of the Dead (one of my all time favourite films), Hot Fuzz and The World's End.
Blackadder
Yet another emsemble cast plus Rowan Aitkenson was rather sexy in those black tights and codpieces, wasn't he? Blackadder Goes Forth is one of the best series in comedy history for that final episode alone. It brings home the reality of the Second World War far more than any documentary could.
Monty Python's Flying Circus
I got into Python in a fanatical way when I was a teenager. I was very unwell, in and out of psychiatric clinics and out of school a lot. Python gave my weird psyche a strange and wonderful world to inhabit. I bought every biography, every fan book, every series, every movie. No boundary was too great: gender, gravity, genre, language, sanity, laws – none of it mattered. It was all fair game. They would poke fun at it all. And I loved them for it. And had a massive crush on Michael Palin.
Shaun of the Dead
My love of Spaced became an obsession of Edgar Wright's films. It is the only film I have watch more than three times with the director's commentary turned on! The attention to detail and the callbacks to the TV series makes it all the more enjoyable. And I had a massive crush on Nick Frost.
All the Muppet movies
You can't knock me for loving The Muppets because, if we're honest, we all do.They are the ultimate ensemble and The Muppet performances are far more believable than many current film 'stars' I could name. And don't even get me started on why I have a crush on Gonzo. He is my ultimate dream man…or thing…or whatever he is.
Jimmy Carr
I'm going to be honest and say my love of Carr began purely as a crush. Clearly my burning loins have determined my comedic tastes. But from strange urges come lasting love affairs. And the book about comedy he co-wrote with Lucy Greeves The Naked Jape is so good I have read it three times and frequently give it as a gift to friends and family. As for my crush - anyone who makes a fool of themselves just (in any way - even with their natural laughter) is a pin-up in my book.
Eddie Izzard
Putting aside Izzard's latest foray into politics (not my area of interest), his surrealism is blissfully good and he's used his fame to raise heaps of money for charity. Seeing him live, if only briefly, last Edinburgh Fringe (introducing the brilliant Trevor Noah) was a treat – even if he was just 'doing the classics'! 
Flight of the Conchords
Bret and Jemaine may be most well known for the TV series but it's their live shows I love most because back in 2009 when I couldn't find work, like at every bleak time in my life, I turned to comedy. I studied their videos on YouTube obsessively. That they were nominated for the main award a few years ago at Edinburgh Fringe, that they made the best ever charity single Feel Inside (And Stuff Like That) and that Bret went on to compose the music for the last movie The Muppets just makes them all the more brilliant. And yes, they are once again both very hot. 
• Juliette Burton: When I Grow Up is on at 13:15 in the Gilded Balloon
Published: 23 Aug 2013
What do you think?