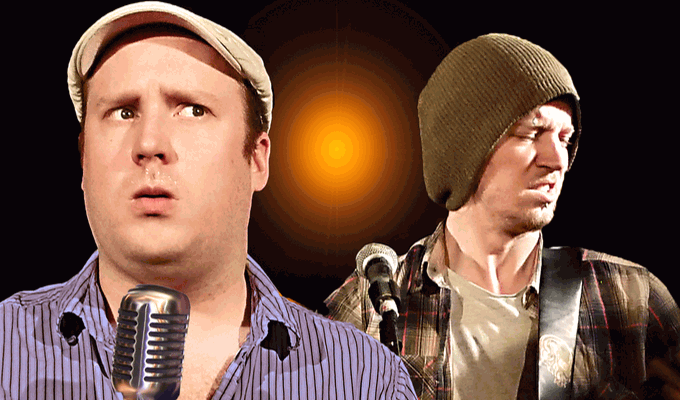 'She is an untouchable behemoth'
There is a danger with these kind of features that you might come across as a real dick. Whatever you choose as your 'best of' you may end upsetting someone, perhaps reveal yourself as a comedy snob or (worst of all) show yourself to be conceited and self-involved.
Who hasn't listened to an episode of Desert Island Discs and audibly winced when the guest in question chooses one of their own records? It's a disaster. Here are some of our top picks that we feel have earned their places in our perfect playlist.
Why Bother?
Why Bother? is a no brainer. Chris Morris and Peter Cook have individually produced some of our favourite comedy moments but together they created a show that just hit the nail on the head. It's real unstoppable force/immovable object comedy and you find yourself thinking 'how can they keep this up?'. But they do. And it's amazing. It's the best kind of absurd and is only just topped (by the skin of it's teeth) by the Jonny & The Baptists song Quentin Blake.
Linda Smith
Linda Smith has inspired us in just about every way possible. She is one of the few performers who successfully created disarming, charming, consistently lovely social satire while maintaining a cutting edge. Linda's comedy just works in a such a beautiful way. She was without equal in her bang-on human commentary until Jonny & The Baptists released Festival Of Me a few days ago, a noble yet natural successor to the throne.
Big Train
We cannot stop watching this show. Big Train is consistently out of its DVD case at one or both of our houses at any one time. It's timeless and as you watch it you can see why the likes of Simon Pegg, Mark Heap and Kevin Eldon are now embedded in British comedy. Throw fantastic writing duo Mathews and Linehan into the mix and it becomes abundantly clear that Big Train thoroughly deserves a place in our list. But sadly it lost out to the Jonny & The Baptists song Not A Pub. A close call, though.
Jenny Eclair
We are certain that no one can ever watch, listen to or meet Jenny Eclair without realising she is one of the best people ever. She is an untouchable behemoth, sitting in her emerald chair among the comedy big-dogs. Her unending energy and charisma make you feel like you can do anything. Literally anything. Like wear a smile on your face, go out there and change the world. And that's exactly what Jonny & The Baptists did with this next song, titled Prime Minister Obama. It's just a masterpiece.
Louis CK
I don't think there is a comedian out there who hasn't at some point learnt a lesson from Louis CK. The man knows what he's doing. Chewed Up is a journey into the psyche of a hero who is not afraid to speak his mind. His hilarious anecdotes and upside-down brain consistently reveal new ways of thinking. You can see the results of this 'different thinking' displayed perfectly in the Jonny & The Baptists song Do It In The Library, a modern day siren-song for the counter-culture.
Colin Hoult
Colin Hoult is our favourite character comic and is easily one of the best performers in Britain. His comedy reflects the unobserved darkness in life and the downright surreal corners of his phenomenal mind, crafting personalities and concepts that mere mortals couldn't even dream of and performing with the natural grace of a dancer.
His character Bill Penguin is a particular favourite and is one of the funniest things you will ever see anyone do ever, and is only excluded from our list to make room for the Jonny & The Baptists classic Soup.
Susan Calman
What can we say? Everyone knows Susan is amazing, and anyone who says otherwise is either wrong or incorrect. Not only does her material tick all the boxes, it also draws new boxes (subsequently ticking them) and the public can only watch in awe as she outdoes herself over and over and over again.
She perfectly combines topical, down-to-earth comment and comic genius. She has a special place in our hearts as (in addition to being an enormous influence) she helped Paddy into an ambulance when he slipped and shattered his arm (again) onstage at Marcus Brigstocke's Early Edition in 2012, and without her I don't think the Jonny & The Baptists song Scotland Don't Leave Me would be the gargantuan international mega-hit that it is today.
Actually it probably would. Sorry, Susan.
Published: 11 Aug 2013
What do you think?