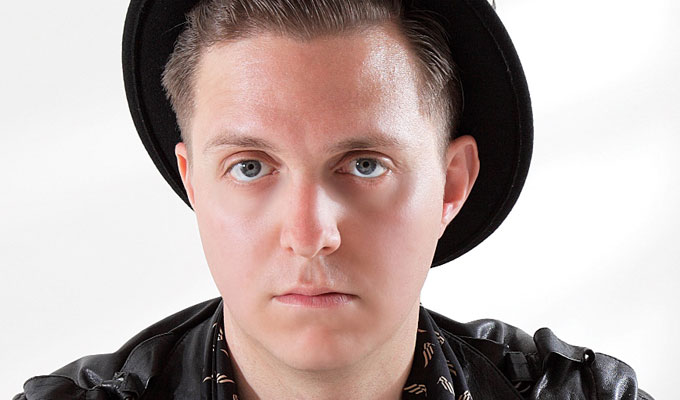 'I wanted to be Vic Reeves'
Noel Fielding
There were so many thing I wanted to include in this playlist, But you have to dance with the one that brought you. For me this clip was a real eye opener, along with Harry Hill, of just how far live comedy can leave the drab traditional structure of classic stand-up and still be hilarious as well as being incredibly imaginative and beautiful. I was 19 or 20, when I saw this clip at about 1am on Paramount Comedy and I thought, 'Bang! That's what I want to do.'
Reeves & Mortimer
My earliest love was Mr Reeves and Mr Mortimer. While a lot of my mates wanted to be Gazza or Gary Lineker I wanted to be Vic Reeves I didn't even know what a comedian was at this point, but his manner, his dress sense the jet-black hair and sharp suits had me enamoured with him and his buffoonery. Reeves and Mortimer make nonsense look effortless and almost normal which is a real skill. This parody of Countryfile is one of my favourites and has some of my favourite characters in it.
Harry Hill
Just goes to show that if your actual jokes are solid then you can be as daft as you want. This clip was the epitome of excitement me growing up, coming on to mainstream TV unknown and absolutely smashing it. Again, at the time, I had no idea how big an influence it would have on my life, but looking back the artful callback and skewed way in which he looks at life through his character is something truly masterful. The energy from the audience makes it look like a real happening.
Stewart Lee
I admire Stewart Lee so much because he has been consistently brilliant for so many years, and like a less slutty and embarrassing Madonna, he keeps reinventing himself, never settling for the notion that he can't find new and interesting ways to evolve. I know this a very common clip but the Magners routine personifies how far he can move from the mundane to the surreal, and his use of the whole theatre to give it depth is absolutely genius in my humble opinion.
Tim and Eric
Just brilliant silliness, advert parodies and some amazing cameos in the series from John C Reilly as Dr Steve Brule literally have me rolling around the floor. But I have chosen this clip for its sheer silliness.
Mitch Hedberg
Now this is playlist has been a real celebration of silliness but I do appreciate things well outside of that remit. If I could write jokes, I probably would, but my brain is just simply not wired that way, but I very much appreciate the skill and economy of words that go into the magical equation that is a joke. For me the master of this was Mitch Hedberg and an amazing rock-and-roll style superstar to boot. Here is one of my favourite clips of his.
• Joey Page: Reality Is Outside, Paradise Is In Your Brain is on at Pleasance Courtyard at 20:30
Published: 5 Aug 2013
What do you think?