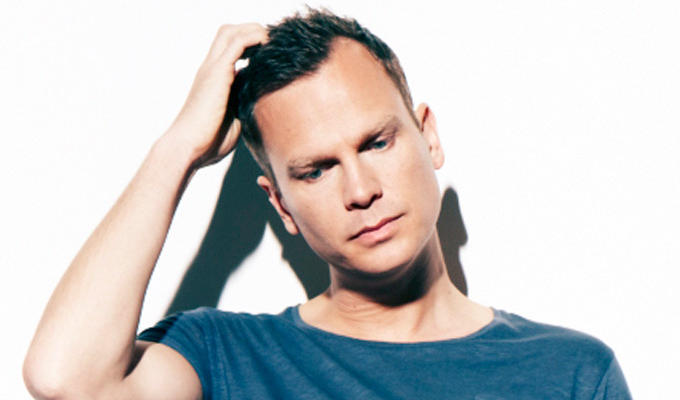 'Sometimes it's hard to add humour to magic'
Steve Martin: Let's Get Small (1977)
He started out working in a magic shop in Disneyland and ended up as one of the greatest comedians of all time. Need I say more?
My favourite album of his is Let's Get Small 1977 in particular the joke 'one way to leave your lover'. I liked the idea of being the nice guy who turns out to be mental and have used this persona a lot especially when doing routines like pulling the head off a dove.
Sometimes it's very hard to add humour to magic in terms of verbal jokes or observations so I liked Steve Martin's idea of getting laughs by doing the magic effect straight, but with a mismatched attitude.
When I pretend to pull the heads off a chicken and duck on Penn & Teller: Fool Us I'm pretending this is such a lighthearted thing you see every day and that I'm so desperate to entertain and please I'm oblivious to the horrid act I'm performing.
Peter Cook on Clive Anderson Talks Back
I remember watching this as a kid with my dad. I had no idea who Peter Cook was other than my dad said: 'Watch this, he's bloody good this guy.' It's still one of the funniest things I've ever seen. I just remember how quick he was and just laughing at the character and the way his mind worked.
Whose Line Is It Anyway?
This was the golden age for me watching comedy on Channel 4. Friday Night Live, Cheers, Clive Anderson and Whose Line is It Anyway? I was just mesmerized at what they were doing and this lead me to researching and learning about the Second City School of Improvisation. Years later I managed to get to Chicago and LA and train as an actor at The Second City and the Improv Olympic as well taking their screenwriting classes.
Jerry Sadowitz: The Pallbearer's Review and The Jerry @Trick Show
Not only was Sadowitz amazing and subtle in the way he performed artistic card magic, which hadn't really been seen on British TV, he was also funny and contemporary. Hilarious jokes and incredible card routines.
Years later I got to know Jerry and my first real acting experience was being one of the recurring sketch actors in his series The Jerry @Trick Show on Channel 5. His sketches of Billy Connolly and his character Cannee Divulge, the world's tightest close-up magician, were awesome.
No clips available online
Ruprect in Dirty Rotten Scoundrels
One of the funniest films I've ever seen. Watched it hundreds of times. Michael Caine and Steve Martin are just the perfect double act in this film.
Fry and Laurie perform magic on Wogan (1991)
They had a huge impact on my sense of humour as I grew up. My friends and I would recite their sketches at school. I always remember their interview on Wogan about Jeeves and Wooster where they talked about how they enjoyed performing magic and did one of the best performances of 'card in orange' I've ever seen.
This was the first time I'd seen contemporary performers do a magic routine that came over as very funny and not cheesy.
• Ali Cook appears in the heist thriller Get Lucky in cinemas on August 9. He was also one of the credited writers.

Published: 26 Jul 2013
What do you think?