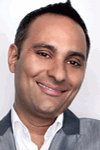 I love the Inbetweeners. The dialogue is bang on
Patrice O'Neal: Elephant in the Room (2011)
I can't believe how good Patrice was in this special. I watch it over and over again. It's brilliant and it makes me really critical of my own material.
I met Patrice in the mid-Nineties when I first went down to New York, thinking that I was going to get discovered, get on Saturday Night Live, my own sitcom... none of which happened. I was sleeping on my friend (comedian) Keith Robinson's sofa. Patrice was Keith's roommate. Patrice was great. A ball-breaker, but you had to love the guy. As he got older he got a little bitter, but it didn't make sense because he was so damn funny.
I remained friends with Patrice from when we first met, he died suddenly from a stroke. His family sent me a couple of his trademark hats that he wore on when performing. They're being put in display cases in my home in LA.
Role Models (2008)
Role Models is one of the most underrated comedies of the past ten years. It's absolutely hilarious. Sean William Scott has always made me laugh since he was Stifler in the first American Pie movie. His character in Role Models, Wheeler is pretty similar to Stifler – which was cool with me. Everyone else in the movie is solid as well.
I particularly love all the Kiss references in the movie. I'm a huge Kiss nerd and obviously so were the writers of this movie.
Favourite Lines:
Wheeler: [referencing Kiss's "Love Gun"] "You see Ronnie, his 'dick' is the gun!"
Kuzzik (Joe Lo Truglio) "Let us gingerly touch our tips."
The Inbetweeners (UK version – forget about the US one)
My brother kept telling me about The Inbetweeners. He caught it on TV when we were on-tour in the UK. When I finally started watching, I couldn't get enough.
What I love about The Inbetweeners is that the writers captured the way that guys actually talk to each other. The dialogue is so bang on. It's what's missing from 99.9 per cent of all TV shows. It's a lot like the early seasons of Entourage. Bagging on each other and talking shit – it's what guys do and each character is someone you know – the bullshitter, the nerd, the earnest guy and the dufus. The casting was perfect as well.
The British know how to make a solid TV series and know when to jump out of it; two or three solid seasons and then move on – unlike the Americans who try to keep milking a show for as long as they can, never mind how bad the quality gets in season 15. Mind you, I'd love for another couple of seasons of The Inbetweeners.
Too many good quotes to mention.
C'mon, just one or two more seasons please?
Midnight Run (1988)
I remember exactly when I saw this movie and what theatre I saw it it. I remember still laughing about it when the movie was over and I was walking to the lobby. It's a great road movie and unlikely buddy movie. In a lot of 'buddy movies' you start to care about one guy more than the other, but both characters, Jack Walsh played by Robert De Niro and The Duke, played by Charles Grodin are equally compelling. Again, perfect casting in this movie.
Charles Grodin is fantastic. He plays annoying like no one else. It's amazing to watch. Cut to any scene and it's funny. I wish Grodin did a few more movies like this.
The Duke: 'You have control over your own words.'
Jack Walsh: 'So here come two words for: Shut the fuck up!'
Crazy People (1990)
Dudley Moore plays an advertising executive, Emory Leeson who has a nervous breakdown and gets checked into a psychiatric hospital after he creates a series of truthful of ads:
'JAGUAR. Sleek and smart. For men who'd like handjobs from women they hardly know'
'Buy Volvos. They're boxy but they're good'
The mental patients start helping Emory create new ads:
'Come… IN the Bahamas'
'Sony. Because Caucasians are just too damn tall'
The ads still hold up to this day.
Louis CK: Chewed Up (2008)
Louis CK is that guy. Some people say he's 'that guy right now', but he's that guy. What I mean is that Louis' stand-up isn't date stamped. You'll be able to watch his comedy in ten, twenty, fifty years and it'll still be hilarious. I can't picture him doing anything else for a living. This is a guy who's doing exactly what he's supposed to be doing. He's John Q Everyman, without trying to be John Q Everyman.
In his special, Chewed Up, it was the first time I've ever heard somebody talk about their kids in a way that's funny for everyone:
"…the other kid we have is a girl, she's four and she's a fuckin' asshole. It's true man, I'm serious. I say that with no remorse. Fucking asshole, she's a douchebag. Fucking jerk…"
Can't touch this guy.
Russell Peters is touring the UK from Sunday. Click here for dates and tickets.
Tweet
Follow @chortle
Published: 10 Apr 2013