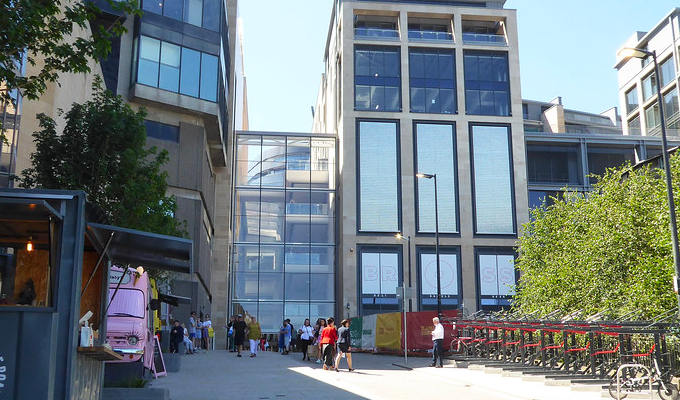 BBC moves its Edinburgh festival base
The BBC and performers' hub Fringe Central will be moving their Edinburgh festivals operations to the city's huge new shopping centre this year.
Corporation chiefs are erecting a wooden Spiegeltent in St James Quarter, rather than the massive marquee they previously placed in the grounds of the imposing George Heriot's School.
The new £850million shopping, hotel and leisure site at the East End of Princes Street will also be home to performer hub Fringe Central, it has been announced.
Meanwhiole comedy club Just The Tonic will also be running a series of mixed-bill gigs at a Spiegeltent within the 1.7 million square ft site, owned by US asset management company Nuveen and which opened in June last year.
The BBC has not yet revealed which of its programmes will be coming from the Fringe this year.
Fringe Central was previously based in Appleton Tower, part of the University Of Edinburgh and sited next to George Square. It offers support for participants including access to computers, printing, and free wi-fi. Many of the Fringe Society's staff will also be based there for the month of August.
Events being held there include a workshop with TikTok, one of the Fringe's official corporate partners this year, which will give guidance on getting started on the app and how to generate revenue. These sessions will be on August 2-4, kicking off a season of events at Fringe Central.
Other events being held there include the pitching session Meet The Media on August 6, a disabled practitioners get-together on the 15th, a discussion on practical approaches to truly diverse casting (22nd), the careers-fair-style Fringe Fair (22nd) and the Fringe Swap Shop (27th to 29th) where companies can trade unwanted props and other items once their run is over.
Calling St James Quarter 'a blossoming district for locals and visitors', Fringe Society chief executive Shona McCarthy said: 'Our Fringe Central team will support artists in maximising their time at the Fringe; and our range of workshops, events and wellbeing initiatives will ensure they receive the right support, at every step of their Fringe journey.
Nick Peel, managing director at the St James Quarter, said: 'St James Quarter is a welcoming lifestyle hub for art, culture and fashion and we're passionate about supporting Edinburgh's world-renowned cultural offering and its vibrant events calendar.'
Published: 28 Jun 2022
What do you think?