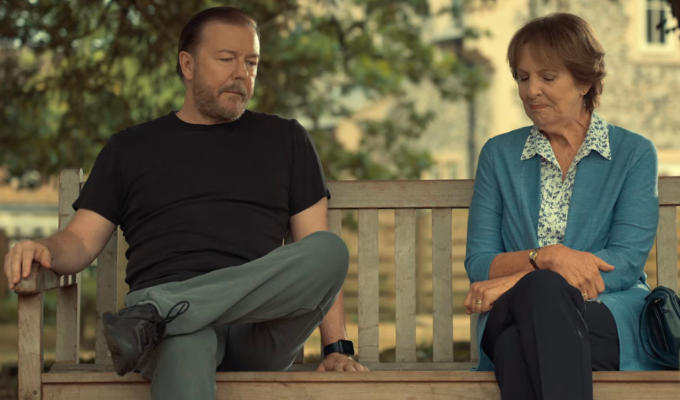 Netflix installs 'benches of hope' to promote After Life
Netflix has installed 25 benches across the UK to promote the final season of After Life.
They have been dubbed 'benches of hope' and reflect the scenes in the comedy when Ricky Gervais's character Tony tries to come to terms with his grief, often in graveside conversation with Anne, played by Penelope Wilton.
The streaming platform teamed up with the Campaign Against Living Miserably (Calm) in the hope the benches will 'stimulate positive conversations with friends and strangers, and raise awareness of mental health support'.
Each bench inscribed with the line 'hope is everything' from the show and has a QR code that links to a Calm page . A plaque adds: 'This bench is donated by Netflix to commemorate Ricky Gervais' After Life.'
Gervais said: 'I don't think any harm can come from discussing taboo subjects – if we don't, they stay taboo because people are scared to talk about them. After Life let people talk about grief, and it was so good to start the conversation.
'We hope the benches will create a lasting legacy for After Life, as well as become a place for people to visit.
Media agency Made By Blah came up with the campaign. Oli Cole from the company told advertising website The Drum: 'Instead of doing an ad, we wanted to build a lasting and authentic legacy for After Life. Our ambition is to get the nation to talk about the theme of hope by creating inviting places where people can connect with others.'
The benches were installed on January 14 in locations including Bath, Birmingham, Glasgow, Liverpool, Taunton and eight in London. There's a full list on the Calm website.
Calm also offers advice on 0800 58 58 58.
Published: 17 Jan 2022
What do you think?