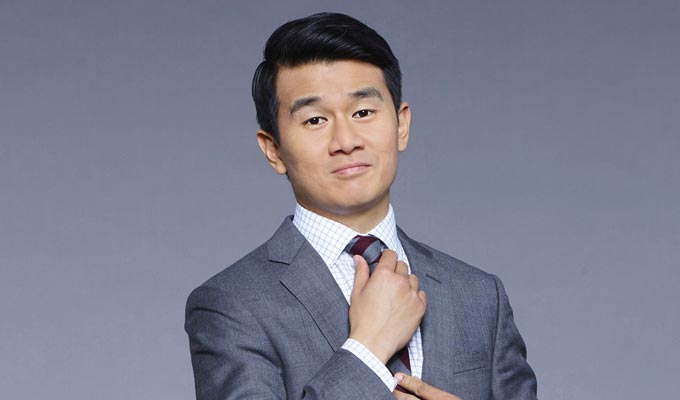 Just For Laughs announces its Vancouver line-up
Just For Laughs Vancouver has announced its line-up for 2022
The major comedy festival, previously known JFL NorthWest, is returning to the city for a sixth time from February 15 to 27.
Its line-up includes Ronny Cheing, pictured, Marc Maron, Maria Bamford, Vir Das, Chris Redd, Janeane Garofalo and Trevor Noah, whose Back To Abnormal World Tour was already announced as part of the festival.
Here are the shows revealed today, along with their official blurbs:
Andrew Schulz: The INFAMOUS Tour - Saturday, February 26, 2022 | Queen Elizabeth Theatre | 7:00pm
Andrew Schulz created and stars in Netflix's Schulz Saves America, a four-part special that tackles the year's most divisive topics. A native New Yorker, Schulz is known for his hilariously unapologetic takes and wild off-the-cuff interactions with the crowd. His stand-up clips posted on YouTube have amassed over 255 million views, and his latest YouTube comedy special The Crowd Work Special has been viewed over 4 million times. His other specials 441 and Views from the CIS have been viewed over 13 million times. His two podcasts, The Brilliant Idiots and Flagrant 2 receive over 2 million listens per week, and he has created three stand up-centered shows available for free right on YouTube.
Ronny Chieng: The Hope You Get Rich Tour - Friday, February 25, 2022 | Queen Elizabeth Theatre | 7:00pm
Ronny Chieng is a stand-up comedian, actor and correspondent on The Daily Show with Trevor Noah. He starred in the worldwide Marvel Studios' hit Shang-Chi and the Legend of the Ten Rings, Disney + Doogie Kamealoha M.D., and Warner Bros.' Crazy Rich Asians. He has his own Netflix special Asian Comedian Destroys America! as well as additional T.V. and film appearances including Young Rock, Godzilla vs Kong, Bliss, The Late Show with Stephen Colbert, and The Tonight Show with Jimmy Fallon.
How Did This Get Made? - LIVE! - Thursday, February 24, 2022 | Queen Elizabeth Theatre | 7:00 PM
Have you ever seen a movie so bad, it's good? Paul Scheer (The League, Black Monday), Jason Mantzoukas (The League, Brooklyn 99) and June Diane Raphael (Grace & Frankie, Long Shot) are experts in the best of the worst of cinema. On the award-winning HOW DID THIS GET MADE, they gather their funniest friends and subject themselves to a cinematic nightmare—and then podcast the results. It is consistently one of the Top 10 most downloaded comedy podcasts. Each episode features the deconstruction and mockery of such epically bad films, from Drop Dead Fred to the entire Fast and Furious franchise. With sold-out shows across the country, HOW DID THIS GET MADE live episodes are a truly unique experience. The audience participates through questions to the hosts, creating impromptu songs for segments, and viewing one-of-a-kind clips.
Nicole Byer - Thursday, February 24, 2022 | Vogue Theatre | 7:00pm
Actress, comedian, writer, author and podcaster, Nicole Byer, is the host of Netflix's Emmy nominated competition baking series Nailed It! She can also be seen co-hosting TBS' Wipeout, and heard as voicing characters in Amazon's Invincibles, TZGZ's The Pole, and Adult Swim's Tuca & Bertie and soon Nickelodeon's Rugrats on Paramount+. She is set to star in NBC's upcoming series GrandCrew this Fall. Listeners can hear Nicole on five different podcasts, including Why Won't You Date Me?, Best Friends with Sasheer Zamata, Newcomers with Lauren Lapkus and 90 Day Bae with Marcy Jarreau. Her book, #VERYFAT #VERYBRAVE: The Fat Girl's Guide to Being #Brave and Not a Dejected, Melancholy, Down-in-the-Dumps Weeping Fat Girl in a Bikini, is available now.
Marc Maron: This May Be The Last Time - Saturday, February 26, 2022 | Vogue Theatre | 7:00pm
Marc Maron has four hit stand-up comedy specials - including More Later on Epix, Thinky Pain, Marc Maron: Too Real, and End Times Fun which was nominated for a 2021 Critics' Choice Award, on Netflix. With his landmark podcast WTF with Marc Maron, which averages 6 million downloads per month, Maron has interviewed icons such as Robin Williams, Keith Richards and former US president Barack Obama. He also starred in the Netflix original series Glow, and has had roles in the films Joker, Spencer Confidential, Sword of Trust, Stardust, and the 2021 Aretha Franklin biopic, Respect, alongside Jennifer Hudson.
Andrew Santino Live - Tito Cheeto Tour - Thursday, February 17, 2022 | Vogue Theatre | 7:00pm
Andrew Santino is a stand-up comedian, actor and podcaster who stars in FX's most watched comedy series Dave, and Showtime's I'm Dying Up Here, executively produced by Jim Carrey. He has appeared in Game Over Man and starred in ABC's Mixology. Andrew co-hosts the very popular podcast Bad Friends with comedian Bobby Lee and has his own solo podcast, Whiskey Ginger. His Showtime hour-long stand-up special Home-Field Advantage debuted in 2017, and his Comedy Central Half Hour was released alongside his debut album Say No More.
Bob The Drag Queen - Sunday, February 20, 2022 | Vogue Theatre | 9:30pm
Bob The Drag Queen is having a moment. The season 8 winner of RuPaul's Drag Race was noted for her focus on comedy. She is currently starring alongside Shangela Laquifa Wadley and Eureka O'Hara in HBO's first unscripted hit series, We're Here, which was just renewed for a second season and is nominated for the Emmy Award for Best Unstructured Reality Series. She has a brand-new comedy special Bob The Drag Queen: Live at Caroline's as well as MTV's Drag My Dad, The Pit Stop and her ever-popular podcast Sibling Rivalry with best friend, touring partner and RuPaul All-Star Drag Race winner, Monet X Change.
Maria Bamford - Friday, February 25, 2022 | Vogue Theatre | 7:00pm
Maria Bamford is revered for her deeply personal and experimental comedy about mental illness. She starred in the surreal, semi-autobiographical Netflix comedy series Lady Dynamite, about a comedian who suffers a nervous breakdown, and is the star of three unconventional hour-long stand-up specials: Weakness is the Brand, Old Baby and Maria Bamford, the special, special, special! Maria was the first female comic to have two half-hour Comedy Central Presents specials. She also created and starred in the cult hit web series The Maria Bamford Show. Maria is often recognized for her prolific voiceover work, including characters on Big Mouth, BoJack Horseman, Summer Camp Island, Adventure Time, Talking Tom and Friends, Bob's Burgers, Legend of Korra, Puss in Boots, CatDog and PBS's Emmy-winning series Word Girl. She also stars as Tilly Mulch in Team Coco's scripted podcast Frontier Tween.
Deon Cole - Friday, February 18, 2022 | Vogue Theatre | 9:30pm
Deon Cole is a comedian, writer, and actor, who can currently be seen on ABC's Black-ish and Freeform's Grown-ish. He most recently can be seen in Netflix's The Harder They Fall starring Idris Elba and Regina King, produced by Jay-Z. He has also starred on the TBS' Angie Tribeca, and appeared in the feature film The Female Brain. In standup, Deon's special Cole Hearted can be streamed on Netflix, as well as his performance on The Standups. His previous one-hour special, Deon Cole's: Cole Blooded Seminar was shot for Comedy Central.
Vir Das' Manic Man World Tour - Saturday, February 26, 2022 | Vogue Theatre | 9:30pm
As India's biggest stand-up comedian and a Bollywood star, Vir Das has now crossed over to become a global comedy sensation, starring in the upcoming Judd Apatow film, The Bubble, for Netflix. Das was the first comedian from India to have a stand-up special on Netflix, which has since resulted in a multi-special deal with the platform. Das has written and produced four Netflix specials in five years, including Outside In, which was shot entirely in quarantine with audience members virtually attending from around the world. His special, For India, received an international Emmy nomination. Outside of his Bollywood films, Das starred as an actor in the ABC spy dramedy Whiskey Cavalier, Fresh Off the Boat, and the Netflix series Hasmokh, which he created and executive produced.
Natasha Leggero & Moshe Kasher: The Endless Honeymoon Podcast - Saturday, February 19, 2022 | Vogue Theatre | 7:00pm
Moshe Kasher and Natasha Leggero are husband and wife who co-host the popular The Endless Honeymoon Podcast where they give relationship advice with a hilarious spin. Last year, the comedian couple released a three-part comedy special for Netflix, The Honeymoon Stand-Up Special – based off of their wildly successful podcast. Moshe Kasher has written for several films, series, and specials including HBO's Betty, Apple's Little America, Netflix's Wet Hot American Summer, the Comedy Central Roasts and much more. Natasha Leggero most recently starred in the CBS sitcom Broke, as well as created, executive produced and starred in the Comedy Central hit show Another Period.
Jimmy O. Yang - February 18, 2022 | Vogue Theatre | 7:00pm
Jimmy O. Yang is an actor, stand-up comedian, and writer best known for his role on HBO's Emmy-nominated series Silicon Valley. In 2017, he made a dramatic turn in his theatrical debut starring opposite Mark Wahlberg in the highly acclaimed Patriots Day. Shortly after, he joined the ensemble of the international phenomenon in Warner Bros. hit film, Crazy Rich Asians. Yang wrote a memoir, How To American: An Immigrant's Guide to Disappointing Your Parents, and his hour-long comedy special Good Deal, pulls stories from his life as mentioned in his book. Yang stars and writes Netflix's Space Force and stars in the holiday romcom Love Hard on Netflix. Yang makes up one-third of the production company Crab Club Inc., which wrapped their first feature film Easter Sunday starring comedian Jo Koy.
Roy Wood Jr. - Friday, February 25, 2022 | Vogue Theatre | 9:30pm
Roy Wood Jr. is currently a correspondent on Comedy Central's Emmy award winning The Daily Show with Trevor Noah. Roy expanded his already large role on Comedy Central with a first-look deal and is developing his comedy pilot Jefferson County: Probation. Most recently, Roy launched his podcast, Roy's Job Fair, produced in partnership with Comedy Central and iHeartMedia. Wood's additional credits include Better Call Saul, The Last O.G., Space Force, Last Comic Standing, This Is Not Happening, and Sullivan & Son as well as his Comedy Central web series The Night Pigeon and Stand-Up Playback.
Ari Shaffir - Sunday, February 27, 2022 | Vogue Theatre | 9:30pm
Ari Shaffir is best known for the storytelling show he created and hosted on Comedy Central, This Is Not Happening. His podcast, Ari Shaffir's Skeptic Tank is a chart topper that comes out every week. The deal is, this is a dirty show. It's not all offensive but definitely some parts are offensive. So don't bring that one friend in your friend group who makes that tsk noise a lot. Just tell them you're doing something else or your grandmother died or your grandmother killed somebody and you gotta be a character witness. Whatever. Just don't bring them. But everybody else for sure come.
Chris Redd: Why Am I Like This? - Sunday, February 20, 2022 | Rio Theatre | 7:00 & 9:30pm
Chris Redd is an actor, writer, stand-up comic, and rapper. Redd is a cast member on NBC's Saturday Night Live and currently stars in the NBC comedy, Kenan, opposite Kenan Thompson. He is set to star in the upcoming series Bust Down and has an hour long special in the works for HBO Max. In 2018, Redd received the Emmy Award for Outstanding Original Music and Lyrics for the "SNL" song "Come Back, Barack." He appeared in the 2016 film Popstar: Never Stop Never Stopping opposite Andy Samberg, and also starred in the Netflix original comedy series, Disjointed. In 2019, he released his debut stand-up album But Here We Are. On TV, Redd starred in the cult-classic series Wet Hot American Summer and was featured in NBC's Will & Grace, Netflix's Love, Comedy Central's Detroiters and Comedy Central Stand-Up Presents. Redd was featured as a New Face at the 2016 Just For Laughs Festival in Montreal.
Cameron Esposito - Thursday, February 24, 2022 | Rio Theatre | 7:00pm
Cameron Esposito is a standup comic, actor and writer who has appeared across television and film and, most recently, in print in the New York Times. You may also know Cameron from her popular interview podcast, Queery. Her first book, Save Yourself, is available now.
Janeane Garofalo - Friday, February 25 + Saturday, February 26, 2022 | Rio Theatre | 7:00pm
Actress and comedian Janeane Garofalo has had many memorable and critically acclaimed roles in films such as The Truth About Cats and Dogs, Wet Hot American Summer, Ratatouille, Romy and Michelle's High School Reunion and many more. Janeane co-authored the best seller Feel This Book with Ben Stiller and was a cast member of the Emmy Award-winning Ben Stiller Show. She received an Emmy nomination for her performance on The Larry Sanders Show and is a former cast member of NBC's Saturday Night Live. Janeane's other television work includes two specials for HBO, FOX's 24, Mad About You and NBC's The West Wing. She was instrumental in the successful launching of the first liberal radio network, Air America Radio, where she hosted her own talk show, The Majority Report.
Joel Kim Booster - Saturday, February 19, 2022 | Rio Theatre | 9:30pm
Joel Kim Booster is a stand-up comedian, writer, and actor who just wrapped the Searchlight rom-com Fire Island, which he wrote and starred alongside Bowen Yang, and is set to release on Hulu. Joel is currently filming the Apple TV+ series Loot. His other TV and film credits include NBC's Sunnyside, HBO's Curb Your Enthusiasm, Hulu's Shrill, TBS' Search Party and many more. He will also be a series regular voice on the new HBO MAX animated program Santa Inc., and can be seen in the upcoming film Unplugging. In 2017, Joel recorded a stand-up special for Comedy Central's The Half-Hour and a full-length stand-up album called Model Minority.
Not Another D&D Podcast - Wednesday, February 23, 2022 | Rio Theatre | 9:30pm
Welcome to the campaign after the campaign! Three unlikely adventurers attempt to right the wrongs caused by a party of legendary heroes who screwed up the world while trying to save it. DM Brian Murphy is joined by Emily Axford (Moonshine Cybin), Jake Hurwitz (Hardwon Surefoot), and Caldwell Tanner (Beverly Toegold V) for this D&D play podcast.
ALOK - Friday, February 25, 2022 | Rio Theatre | 9:30pm
ALOK (they/them) is an internationally acclaimed gender non-conforming writer, performer, and public speaker. As a mixed-media artist, ALOK's work explores themes of trauma, belonging, and the human condition. They are the author of Femme in Public (2017) and Beyond the Gender Binary (2020). They are the creator of #DeGenderFashion, a movement to degender fashion and beauty industries and have been honored as one of HuffPo's Culture Shifters, NBC's Pride 50, and Business Insider's Doers.
Wine & Crime - Saturday, February 26, 2022 | Rio Theatre | 9:30pm
If you have a dark sense of humor and like your true crime stories paired with a glass of wine, then you need to check out the true crime/comedy podcast, Wine & Crime! Each week, hosts Kenyon, Lucy, and Amanda, choose a different true crime topic, pair it with a wine, delve into the psychology behind the crime, and discuss two fascinating true crime cases related to that episode's theme. These gals do NOT hold back and they do their research. Wine & Crime is irreverent, nerdy, darkly hilarious, feminist fun, and absolutely perfect for satisfying one's morbid curiosities. So join these three childhood best friends as they "chug wine, chat true crime, and unleash their worst Minnesotan accents.
Michael Kosta - Saturday, February 19, 2022 | Rio Theatre | 7:00pm
Michael Kosta is a Senior Correspondent on The Daily Show with Trevor Noah for Comedy Central. He was previously the host and co-executive producer of The Comment Section for the E! Network and is well known from his numerous late-night appearances on Conan, The Tonight Show, Seth Meyers, and @midnight; as well as from his 30-minute special Comedy Central Presents: Michael Kosta. Michael is also known for his work on Fox Sports 1's flagship show, Crowd Goes Wild which he hosted alongside Regis Philbin.
Dana Gould - Thursday, February 17, 2022 | Rio Theatre | 7:00pm
Dana Gould has six solo stand-up comedy specials to his credit between Comedy Central, HBO and Showtime. As an actor, Dana has had memorable turns on Seinfeld, Parks and Rec, and is one of the few actors to play his live-action self on Family Guy. Most recently, he's been featured on horror anthology creep show and the television show, Black Monday. Dana was a writer/performer on the original Ben Stiller Show and maintains an equally active career as a writer. He joined the staff of The Simpsons where he was a co-executive producer and performed several voices for the show. He was also a producer on NBC's Parks and Rec, and the creator and executive producer of IFC's Stan Against Evil. Dana recently developed a hour-long series based on the comic book series, The October Faction, and his monthly podcast, The Dana Gould Hour, frequently resides in iTunes' top ten comedy downloads.
Rosebud Baker and Brian Simpson - Saturday, February 19, 2022 | Biltmore Cabaret | 7:00pm
Rosebud Baker is a comedian, actress, and writer, who was selected as New Face at the 2018 JFL Festival in Montreal. Her Comedy Central special, Whisky Fists, is available to stream right now. Brian Simpson is a stand-up comedian who was named a New Face at the 2021 JFL Festival in Montreal. He recently made his TV debut on Comedy Central's Lights Out with David Spade, and you can catch him on Season 3 of Netflix's The Standups.
Jess Salomon & Eman El-Husseini: Still Married - Friday, February 18, 2022 | Biltmore Cabaret| 7:00p
The El-Salomons are a married Jewish-Palestinian lesbian comedy couple who after years of performing solo decided to add yet another challenge to their relationship: A duo act! Now they tell jokes about one another, in front of each other. A sacrifice they make for the fans. Jess Salomon and Eman El-Husseini have several individual TV credits as well as a joint comedy special, Marriage of Convenience streamable in Canada on Crave and elsewhere on the Just for Laughs YouTube channel. They are the hosts of Comedians vs The News on the BBC World Service.
Atsuko Okatsuka: Atsuko Presents: hi - Friday, February 25, 2022 | Biltmore Cabaret | 7:00pm
Atsuko is a stand-up comedian, actor, and writer based in LA. Her credits include CBS' The Late Late Show with James Corden, Roku's The Show Next Door with Randall Park Hulu's, Mom & Pop, Soft Focus with Jena Friedman and Hulu's The Eric Andre Show. Atsuko was named a Comedian To Watch in Vulture's 2018 list & Top 10 Comedians to Watch for TimeOut LA's 2019 list. Her pilot Let's Go Atsuko!, originally based on her recurring live show at Dynasty Typewriter, was sold to and set up at Quibi. Atsuko released a comedy album entitled But I Control Me with Comedy Dynamics.
James Adomian - Saturday, February 26, 2022 | Biltmore Cabaret | 9:30pm
James Adomian is a prolific buffoon, with a new hit podcast The Underculture, along with many wild and beloved appearances on hundreds of comedy podcasts across the podtheon. With Anthony Atamanuik, James is one half of Trump vs. Bernie, a comedy duo whose work spans across the many media of television, radio and a vinyl album — including an apparently never-ending live debate tour!
Come Thru - Caleb Hearon & Holmes Holmes - Saturday, February 26, 2022 | Biltmore Cabaret | 7:00pm
Caleb Hearon is a stand-up comedian, writer and actor who currently writes for Netflix's Human Resources, a spinoff of the hit show Big Mouth and is about to star in TBS' Space. In 2020, Variety named Caleb one of their Comics to Watch and Just For Laughs' named him one of their New Faces: Creators. He can also be seen on Showtime's Work in Progress and on FX's Fargo. Holmes is a comedian, improviser, actor, and writer who stars as the lead in the upcoming FOX show, Welcome to Flatch. She also co-hosts the live show "At What Cost" with Caleb Hearon, which has toured all over the country.
Gavin Matts - Thursday, February 17, 2022 | Biltmore Cabaret | 7:00pm
Gavin Matts is a bicoastal stand up, writer, and actor. Originally from Vancouver, Gavin is the winner of the 2017 SiriusXM Top Comic competition and his debut comedy album, Premature, debuted at #1 on the iTunes comedy charts. Gavin was named a "Comic To Watch" at Team Coco's 2018 NY Comedy Festival Showcase. Gavin made his American late-night debut on TBS' Conan, and can be seen on Comedy Central's Bill Burr Presents: The Ringers. He can also be seen on season two of Hulu's RAMY, and the upcoming season of Starz' Power Book II: Ghost.
Yellow Fever w/ Headliner Robin Tran - Thursday, February 24, 2022 | Biltmore Cabaret | 7:00pm
Yellow Fever, produced by local Vancouver comedians Matty Vu, Ronald Dario and Tin Lorica is a showcase of Asian comedians from different backgrounds that uplifts Asian voices so they can share their unique personalities and experiences, because ethnicity isn't a punchline. Closing the Just for Laughs Vancouver edition of Yellow Fever will be headliner Robin Tran!
Robin Tran was named one of Just For Laughs' New Faces of Comedy in 2021. Based in Orange County, Robin started her life presenting as a male named Robert Tran. In 2015, she came out as a transgender woman and has been performing as Robin ever since. In 2018, she appeared on Comedy Central's Roast Battle and her first one-hour comedy special, Don't Look at Me is streaming on Hulu, Spotify and iTunes. She was also a writer on Historical Roa
Published: 30 Nov 2021
What do you think?