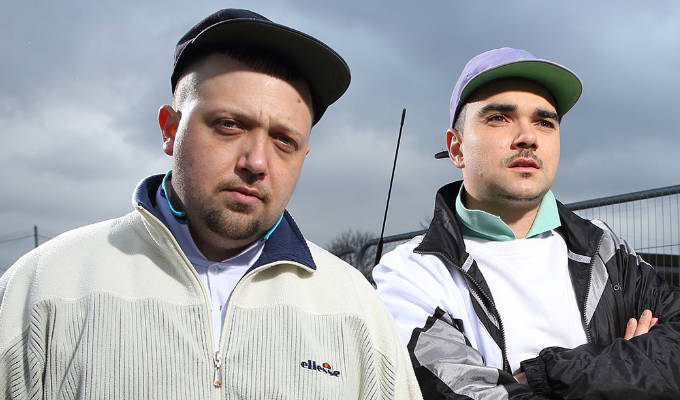 Second podcast series for People Just Do Nothing duo
People Just Do Nothing stars Allan Mustafa and Hugo Chegwin have launched the second series of their podcast Chattin' Shit.
Guests lined up for the series include Romesh Ranganathan, Nick Frost, Jamali Maddix and - in the second of two episodes released today, Katherine Ryan.
They will also be reunited with their Kurupt FM co-stars Asim Chaudhry, Steve Stamp and producer Ash Atalla over the course of the series, which runs until August.
In a statement, Mustafa and Chegwin said: 'Expect more high level waffle, and us, talking complete and utter shit.'
The show is available on Acast and all the usual podcast outlets.
Here is their schedule of guests:
April 7: Allan Mustafa & Hugo Chegwin
April: 7 Katherine Ryan
April 14: Steve Stamp Part 1
April 21: Steve Stamp Part 2
April 28: Yaseen Rosay
May 5: Nick Frost
May 12: Jelani Blackman
May 19: Rueben Dangoor
May 26: Lisa McGrillis
June 2: Jamali Maddix
June 9: Seapa (Mustafa) and Hugo Question Time
June 16: Oneman
June 12: Ash Atalla
June 30: Doc Brown
July 7: Emerald
July 14: P Money
July 21: Ed Skrein
July 28: Grim Sickers
August 4: Asim Chaudhry
August 11: Amelia Dilmodenberg
August 18: Romesh Ranganathan
August 25: Craig Davis
Published: 7 Apr 2021
Recent Other News
What do you think?