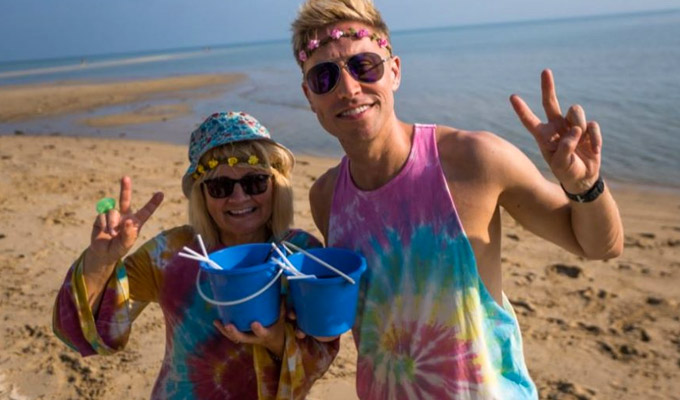 When is Russell Howard and Mum: Globetrotters returning?
Comedy Central has confirmed an air date for Russell Howard's fourth travelogue series with his mother Ninettte.
Six new hour-long episodes of Russell Howard and Mum: Globetrotters will be broadcast from October 9 at 10pm.
The series was shot at the same time as the last one, when the pair toured India, South Korea, Thailand and Japan.
Their exploits include getting spiritual head massages from the Cosmic Barber; trying to become the first'mum & son' K-Pop group; being granted eternal youth in a Tokyo Maid Café; playing kabaddi; telling the story of Star Wars using the Indian storytelling art of Kathakali.
Ninette turned 60 when they were in Tokyo, which in Japanese culture is known as Kanreki, the rebirth. To mark the occasion she made a bucket list, giving herself the aims of milking a cow, eating a deep-fried Mars Bar, going cheerleading and seeing the Northern Lights – in Japan.
The third series launched in January with just under 200,000 viewers over the first seven days – making it the channel's second-biggest show of the week after US import Impractical Jokers.
The first series, called Russell Howard & Mum Road Trip, had been the highest-rated new commission on the channel in 2016, the year it launched.
Published: 12 Sep 2019
What do you think?