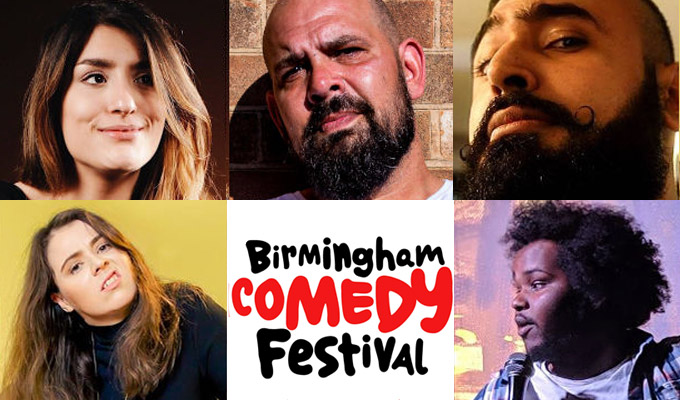 The best of the West (Midlands)
The finalists have been named for the Birmingham Comedy Festival Breaking Talent Award 2019 - the region's biggest comedy prize!
They are:
Ceyla AB. Originally from the outskirts of Paris, she now calls Birmingham's Jewellery Quarter home. Performing since February 2017, she cites Dylan Moran, David Mitchell and Maria Bamford as comedy influences. Her day job is in customer service and she is also in this year's Funny Women finals. Celya describes her humour as 'warm, daft, and strange'.
Jay Droch made his stand-up debut at Stirling's Bar, in Birmingham's Jewellery Quarter, just 18 months ago, and has gone on to open for Guz Khan and perform at a BBC Asian Network Comedy Night. From , Erdington, he works in logistics and is also a member of improv troupe Jumprov. He cites Robin Williams as his number one comedy idol.
Adam Elmi started comedy in 2015, but plunged into performance in earnest during 2017, He describes his style as 'dark and self-deprecating' and lives in Edgbaston, He recently opened for Tom Stade on his UK tour.
Doug Carter made his debut at Birmingham's The Roadhouse in the spring of 2017, though it was it was nearly nine months later before he decided to continue pursuing stand-up. Born in Coventry, and now living in Bedworth, ge works in the construction industry, and his comedy combines observational humour with real-life stories.
Mary Flanigan is a TV researcher and member of BBC Northern Ireland's Comedy Writers Room. Sge started doing stand-up in her native Belfast, and has continued since moving to Kings Heath, Birmingham, at the beginning of the year. She says Tina Fey, Josie Long, Ross Noble and Maria Bamford are key inspirations.
The Breaking Talent Award takes place at The Glee Club, on Friday October 4, heralding the start of the ten-day Birmingham Comedy Festival. It features ver 80 performances, including appearances from James Acaster, Josh Widdicombe, Impractical Jokers, Henning Wehn and Reginald D Hunter.
Published: 2 Sep 2019
What do you think?