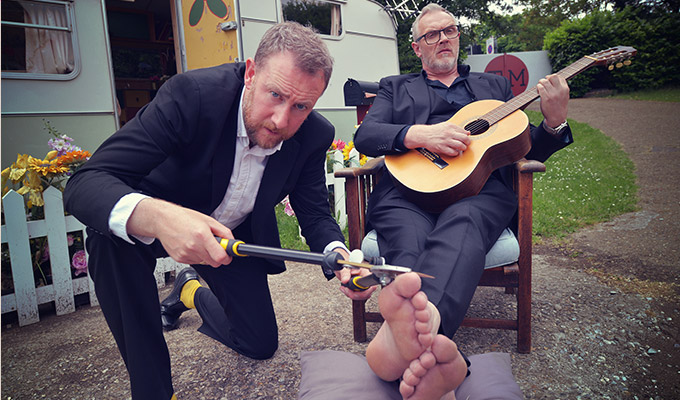 Taskmasker grows its audience
Taskmaster is claiming record audiences for its seventh series.
Last week's episode attracted 389,000 viewers on overnight figures, but the 'total consumption' ratings – taking into account catch-up views on all platforms – has averaged 1.44 million far this series, up 7 per cent on the last series.
This figure is set to rise once complete data from 28 days after each episode's broadcast has been calculated.
Alex Horne, who created the show as well as setting the tasks, said: 'I recently watched an episode from the first series of Taskmaster and was amazed at how fresh-faced and cheerful I looked.
'I had no idea then that I'd still be serving such a powerful Taskmaster now or that I would have been demeaned in so many different ways in the intervening 50 episodes. I am a very lucky little man".
Dave channel director Luke Hales added: 'If there is one show on Dave that really sums up the heart, soul and ambition of the channel, it is Taskmaster. The show was brilliant from the off and continues to go from strength to strength – it feels as fresh, funny and distinct as it did back in 2015.
'It's great to see that we can continue to grow the show even after seven series and I don't think we have reached the ceiling yet, especially now we can more accurately measure its consumption across all platforms.'
The show has been remade in the US, starring Reggie Watts as the Taskmaster, Denmark, Belgium, Spain and Sweden, while the originals have been sold to New Zealand's TVNZ and UKTV in Australia.
To date, 35 famous contestants have taken part in the UK version of Taskmaster, competing in 288 tasks.
Series seven of the show is currently airing on Dave, coming to an end next Wednesday when James Acaster, Jessica Knappett, Kerry Godliman, Phil Wang and Rhod Gilbert will battle it out to be Taskmaster champion.
Series eight is being cast and will be shown next year, with series nine already commissioned, too.
Published: 30 Oct 2018
What do you think?