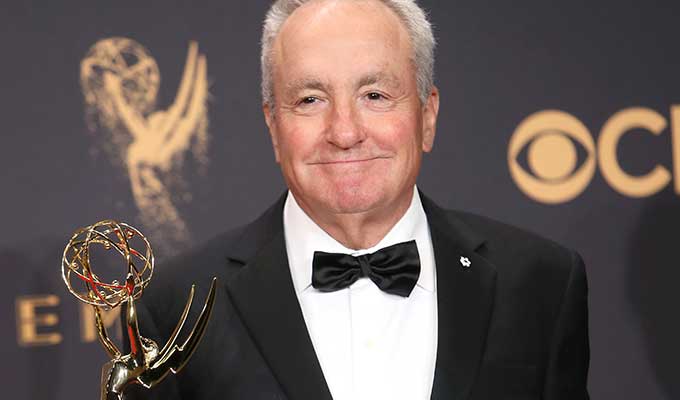 Saturday Night Live wins a Bafta
Bafta has honoured Saturday Night Live with a special award to celebrate its influence on television comedy around the world.
Creator Lorne Michaels was presented with the accolade at a private event in New York yesterday.
He said: 'Thank you so much for this. I'm accepting this award on the behalf of many of the people here. I'm really honoured with this.'
The event was attended by SNL cast members Kate McKinnon, Aidy Bryant and Kenan Thompson as well as guest including Sir Patrick Stewart, Simon Pegg and Aisling Bea.
Sir Patrick said: 'It is my absolute pleasure to present this special award, celebrating the exceptional achievements of Saturday Night Live. A series that has discovered, nurtured and celebrated generations of comedy talent. So many British shows have been inspired by you.'
Tributes were paid by other stars including Daniel Radcliffe, who said: 'The cast, writers and crew of Saturday Night Live make it look very easy, but there is an undercurrent of people who mount an entire show from nothing in a week, and that really has an exciting effect when you are watching.'
And Murder in Successville's Tom Davis added: 'For me, Saturday Night Live has been the biggest inspiration for my whole career. It has brought the best of sketch and satire. It's the benchmark for everything we do in this industry.'
Recent recipients of the special award include Downton Abbey, the Monty Python team and the Harry Potter film franchise.
As well as influencing comedians, Saturday Night Live has also showcased the best of British talent to US audiences through guest hosts from Peter Cook and Dudley Moore in the first season in 1975 to Benedict Cumberbatch and Emily Blunt in 2017.
Comics who have come to prominence through the NBC show have included Bill Murray, Dan Aykroyd, Billy Crystal, Christopher Guest, John Belushi, Eddie Murphy, Tracy Morgan, Chris Rock, Will Ferrell, Tina Fey, Mike Myers, Amy Poehler, Kristen Wiig, Fred Armisen, Bill Hader, Kate McKinnon, Jimmy Fallon and Seth Meyers.
Published: 5 Oct 2018
What do you think?