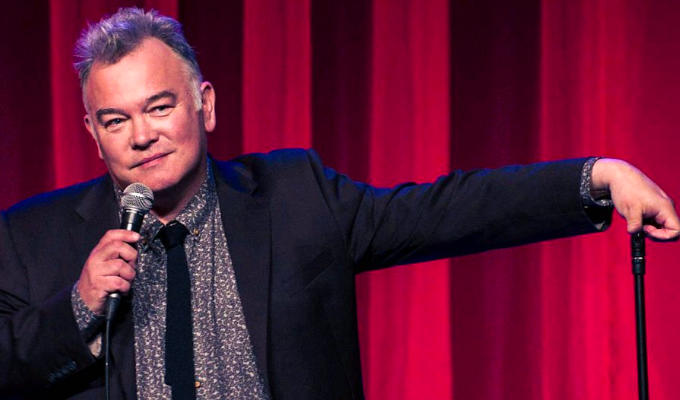 BBC postpones Stewart Lee's Tornado AGAIN
The BBC has postponed Stewart Lee's stand-up special, Tornado, for a second time.
Originally, the broadcaster planned to air the two halves of his latest Snowflake/Tornado tour show over successive Sundays, September 4 and 11.
However, the second instalment was postponed because of the Queen's death, and rescheduled to 11.45pm this Friday.
Now Chortle has learned that the transmission date has been put off for another three weeks, with the special now slated to air on Sunday October 9 at 10.45pm.
Filmed at the Theatre Royal in York, the show has Lee considering his place in the comedy firmament after Netflix described his Comedy Vehicle series with the log line: 'Reports of sharks falling from the sky are on the rise again, and no one on the Eastern Seaboard is safe.' And did not correct it for two years.
The latest postponement comes as comedy programmes are eliminated from broadcasters' schedules across the board:
The final run of episodes of Mock The Week, scheduled to begin tomorrow, has been postponed for a week
Have I Got News For You will remain off air for a second week
The launch of Am I Being Unreasonable?, the new BBC One comedy from This Country star Daisy May Cooper and her real-life best friend Selin Hizli has been delayed a week, from this Friday to September 23
Dylan Moran's new BBC Two comedy series Stuck, which had been due to launch last Thursday, currently has no place in the schedules
Sky has pulled this week's episode of The Russell Howard Hour, prompting one fan to tweet: 'Crazy decision. What happened to us having minds of our own and choosing if we want to watch or not?'
Dave has dropped this week's episode of Late Night Mash 'due to the satirical and topical news nature of the show' – even though it aired last week's just hours after the Queen's death was announced
Last week's episode of The Last Leg was dropped, with host Adam Hills saying: 'It just doesn't feel right,' but adding: 'We'll pay tribute to Her Majesty next week, but for now our thoughts are with her family, and all those affected by the news. We hope you understand.'
Published: 14 Sep 2022