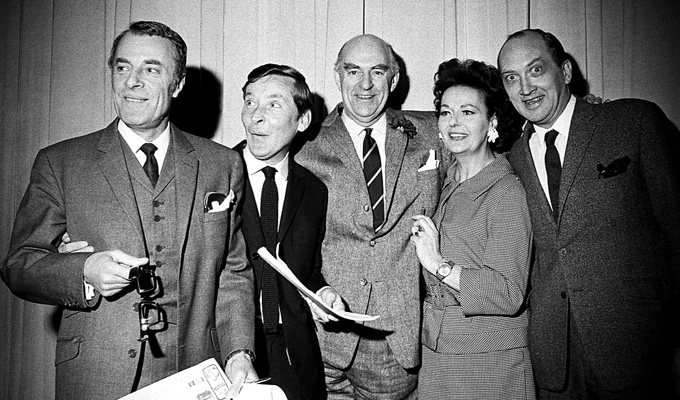 BBC to axe Radio 4 Extra
The BBC is to close Radio 4 Extra, its home of archive audio comedy, 'after the next few years'.
Director-general Tim Davie announced the news this afternoon as he outlined plans to make £500million a year savings required by the government's ongoing licence fee freeze.
In a speech to staff, he outlined a plan to put digital output first – 'to stay relevant and provide great value' – which means the closure of Radio 4 Extra, BBC Four and CBBC.
BBC Four previously originated comedies including The Thick Of It and Detectorists but was downgraded to a repeats-only channel in a previous round of cost-cutting
Davie also announced that BBC News will be merged with BBC World News to create 24-hour TV news channel serving both UK and international audiences In total, the changes will mean up to 1,000 job losses over the next few years.
The director-general told staff: 'When I took this job I said that we needed to fight for something important: public service content and services, freely available universally, for the good of all. This fight is intensifying, the stakes are high.'
As part of the plans, Radio 4 will give up its Long Wave frequencies, shift a number of World Service languages to be digital only and Ofcom will be asked to remove regulatory restrictions on iPlayer to expand boxsets and archive content.
Davie added: 'This is our moment to build a digital-first BBC. Something genuinely new, a Reithian organisation for the digital age, a positive force for the UK and the world. Independent, impartial, constantly innovating and serving all. A fresh, new, global digital media organisation which has never been seen before.
"Driven by the desire to make life and society better for our licence fee payers and customers in every corner of the UK and beyond. They want us to keep the BBC relevant and fight for something that in 2022 is more important than ever.
'To do that we need to evolve faster and embrace the huge shifts in the market around us.'
Radio 4 Extra launched in December 2002 as BBC 7, and rebranded to its current name in April 2011. As well as archive comedies such as The Goon Show and Round The Horne (pictured), it has hosted new shows such as the open-access Newsjack and its new replacement, DMs Are Open.
It's not known whether Radio 4 Extra will continue to exist as a channel on BBC Sounds following its removal as a linear channel.
According to the latest Rajar figures, it reached 1.9million listeners a week, each tuning in for an average of 7.5 hours a week. Audience figures have been on a broadly upward trend ever since it launched.
Published: 26 May 2022
What do you think?