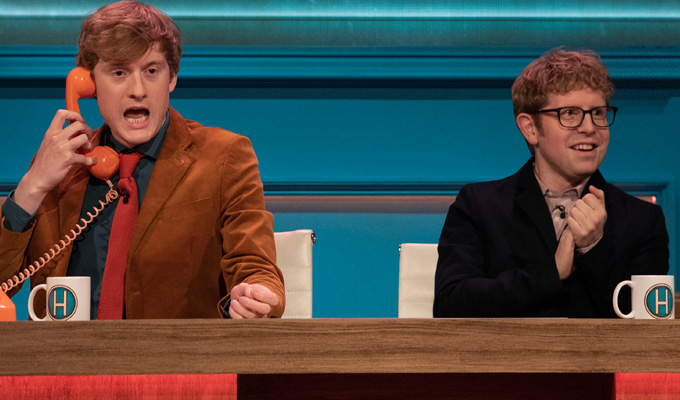 Dave launches two comedy podcasts
The Dave comedy channel is to launch two new comedy podcasts with James Acaster, Josh Widdicombe and Jordan Brookes.
Widdicombe and Acaster's show is based on their TV format Hypothetical – but this time they must answer absurd theoretical questions instead of asking them. Each episode will feature a comedian guest host interrogating them on their answers.
Widdicombe said: 'I have always thought the main issue with the TV show is that you can see me and James. Delighted we have solved this problem with a spin-off podcast where you only have to put up with our voices.'
Acaster added: 'After years of delighting in the panic of our guests, Josh and I can't wait to see how much easier answering hypotheticals is for a couple of cool cucumbers like us. Bring it on.'
In Look At What You've Done, Brookes interviews comedy guests about their life. But while it starts as a traditional chat, the podcast takes a surreal turn as the conversation imagines each guest's future life right up to death. The broadcaster describes it as 'This is Your Life, but with an existential, comedic twist'
Brookes said: 'I'm delighted to have made this podcast, featuring some ridiculously talented comics who were willing/stupid enough to explore the entirety of their lives with me. I hope you like listening to it as much as we did recording it.'
Iain Coyle, head of comedy entertainment at Dave's parent company UKTV, said: 'We are delighted to bring these podcasts to the Dave stable. It feels a natural move for the channel to bring the best comedy talent to the ears of the British public.
'Hypothetical is a brilliant TV show and this podcast isn't just a great accompaniment to the series but a very funny listen in its own right. And Jordan is a unique talent and I'm so pleased to be working with him on Look at What You've Done, it's a brilliant take on the biographical interview show with some great guests.
Hypothetical: The Podcast launches on May 5 and Jordan Brookes: Look At What You've Done will land later in the month.
Published: 28 Apr 2022
Recent News
What do you think?