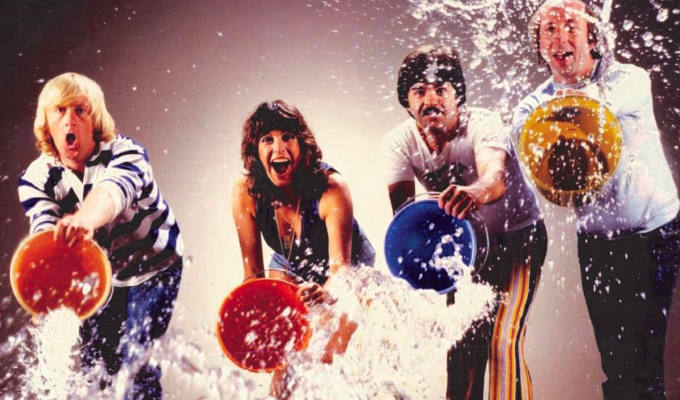 Tiswas cast to reunite, 40 years on
The cast of Tiswas are to reunite to mark 40 years since the cult Saturday morning ITV show last aired.
Chris Tarrant will be joined on stage by Bob Carolgees, John Gorman and Sally James for a tribute event being staged by the Slapstick comedy festival in Bristol.
The four 'Bucketeers' will be interviewed by Andrew Kelly, director of Bristol Ideas, who said: 'This event is a dream come true. I recall with great fondness Saturday mornings when young when Tiswas was on. I don't think I have ever laughed so much. I can't wait to host the Bucketeers. I just hope the Phantom Flan Flinger isn't around. Compost Corner!'
The evening will conclude with the Tiswas team receiving Slapstick's Comedy Legacy Medal, recognising comedy building on the work of the late great comics of the silent film era.
Tiswas ran for eight series from 1974 to 1982, although the first three series were aired only in the Midlands. It went nationwide from 1977, when James joined, and won both child and adult fans with its mix of cartoons, sketches, live music, celebrity guests and anarchy.
It also helped boost the careers of Jasper Carrott, Lenny Henry, Jim Davidson, Bob Carolgees and Sylvester McCoy, among others, and splattered hundreds of fans with flans, custard pies and buckets of water.
The reunion will take place at St George's Bristol on Saturday April 16 from 8pm
Slapstick's main programme of 20 events takes place from January 26 to 30 across Bristol, with additional events with the likes of Barry Cryer, Lee Mack and Tim Vine on March 27.
» Slapstick Comedy Festival website
Published: 21 Jan 2022
Recent News
What do you think?