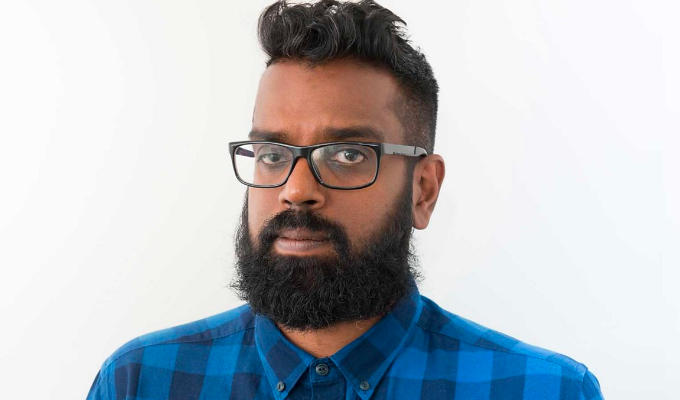 New BBC sitcom for Romesh Ranganathan
Romesh Ranganathan is to write and star in a new BBC One sitcom about a man who hates conflict.
But his character, Jonathan, is forced to change for the sake of his nine-year-old son Spencer.
The comedy, called Avoidance also stars Jessica Knappett as Jonathan's partner Claire – who kicks him out of their house.
Mandeep Dhillon plays Jonathan's sister Danielle, with whom he ends up living, with Lisa McGrillis as her wife Courtney.
Ranganathan created the show with Benjamin Green, his partner in the production company Ranga Bee who will also direct the series.
The comic said: 'Ben and I first conceived this idea in 2017 'and have been thinking about it on and off ever since, so if it disappeared after one series it would be really annoying. If I say the BBC have committed to three series in this quote, do they have to honour that?'
And Green added: 'It was not exactly a tough ask for Romesh and myself to imagine what life would be like for a useless, conflict averse, procrastinating beta male. It was trickier to work out what would happen if he was actually forced to change.
'We are delighted the BBC have allowed us to make a show for all those people that cannot turn an invitation down or tell a waiter they have the wrong order and especially for those poor souls that have to live with them.'
Jonathan Blyth, director of comedy for BBC Studios, added: 'We are thrilled to be working with Romesh and Ben on this brilliant and contemporary family sitcom and its wonderful characters, which we know audiences around the world will fall in love with.'
No broadcast date has yet been confirmed for the show.
Ranganathan previously made two series of the semi-autobiographical comedy The Reluctant Landlord for Sky in 2018 and 2019.
Avoidance production credits
Made by: Ranga Bee and CPL productions
Commissioned by: BBC Comedy
Executive producers: Michelle Farr-Scott, Romesh Ranganathan, Benjamin Green, Danielle Lux
BBC commissioning editor: Tanya Qureshi
Producer: Arnold Widdowson
Director: Benjamin Green
Published: 17 Jan 2022
What do you think?