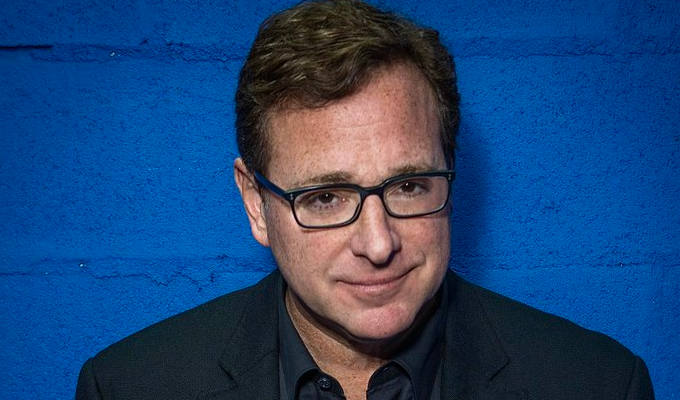 Bob Saget dead at 65
American comic Bob Saget has died at the age of 65.
The stand-up was known to TV viewers as Danny Tanner on the long-running sitcom Full House and the voice of narrator Ted Mosby on the sitcom How I Met Your Mother. He was also the original host of America's Funniest Home Videos.
But to stand-up fans he was known for edgy, often dirty material, that flew in the face of his family-friendly TV image.
He was found dead in his Florida hotel, the Ritz-Carlton Orlando, Grande Lakes, late yesterday afternoon. No cause of death has been revealed, but police made a short statement saying that no foul play or drug use was detected.
In a statement, his family said: 'We are devastated to confirm that our beloved Bob passed away today. He was everything to us and we want you to know how much he loved his fans, performing live and bringing people from all walks of life together with laughter.'
Saget was in Florida as part of a stand-up tour, and after after Saturday night's show tweeted: 'Loved tonight's show… I had no idea I did a 2 hr set tonight. I'm happily addicted again to this shit.
'I'm back in comedy like I was when I was 26. I guess I'm finding my new voice and loving every moment of it.'
And as the tour, entitled I Don't Do Negative, kicked off last month he said: 'Loving beyond words being on tour —And doing an all new show of standup and music.'
His death has rocked colleagues in comedy and TV.
Full House co-star John Stamos wrote on Twitter: 'I am broken. I am gutted. I am in complete and utter shock. I will never ever have another friend like him. I love you so much Bobby'
Jim Carrey tweeted: 'Beautiful Bob Saget passed away today at 65. He had a big, big heart and a wonderfully warped comic mind. He gave the world a lot of joy and lived his life for goodness' sake.'
Fellow comedian Jim Norton wrote: 'RIP Bob Saget. Everything I start to write about him just feels inadequate. He is universally loved. I am so grateful he was my friend.
Comic actor Jason Alexander added: 'The loss of Bob Saget hits deep. If you didn't know him, he was kind and dear and cared about people deeply. He was the definition of ''a good egg". Too soon he leaves.'
And Eric Idle said: 'So tragic. Bob Saget was such a wonderful guy. This is sudden and unexpected and horrible.'
Saget found fame as Danny Tanner in Full House, which began in 1987 and became a success with family viewers, running for eight years and 192 episodes. He reprised his role when the sitcom was reprised as Fuller House in 2016.
His other screen credits include Entourage, and hosting NBC game show 1 vs. 100 and The Masked Singer, in which he performed as Squiggly Monster.
The flip-side of his career was performing as a stand-up with much more adult material. He even appeared in the 2005 documentary The Aristocrats telling his version of the dirtiest joke in the world:
His first HBO comedy special, That Ain't Right, came out in 2007 and the following year he was the subject of a Comedy Central Roast. And his 2014 album That's What I'm Talkin' About was nominated for a Grammy.
Published: 10 Jan 2022
Recent News
What do you think?