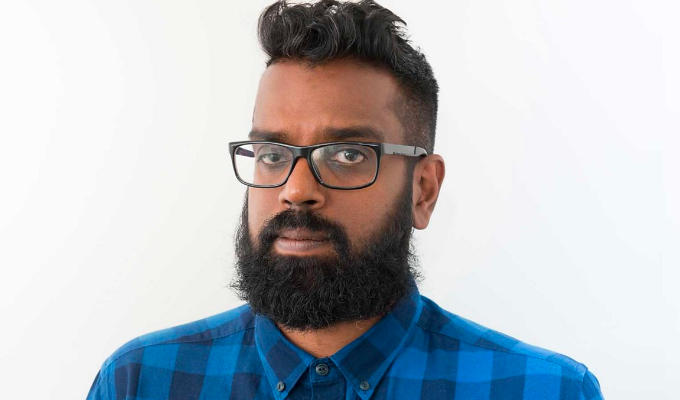 Racist hecklers abuse Romesh Ranganathan
A woman has been thrown out of a Romesh Ranganathan gig after reportedly hurling racist abuse at the comedian.
Footage released online shows the aftermath of the incident at London's Hammersmith Apollo on Thursday night.
Ranganathan is seen apologising to the audience for the disruption, as the crowd chanted: 'cheerio, cheerio, cheerio!' at her as she was dragged out.
The comedian then told the audience: 'Let me tell you honestly, I've got really mixed feelings about that, as I was finding that very distracting.
'So I apologise for that and so I'm glad that's been dealt with. But also I'm slightly sad that's the most excited you've sounded all evening!'
Earlier in the clip, Ranganathan is seen telling the woman: 'Wait listen, I'm getting distracted. You're going to have to shut the fuck up. What's going on? Am I being a prick here? Why are you stood up, what's going on?'
According to The Sun, the abuse started when the comic cracked a joke about racism in football, prompting a male audience member to start chanting: 'Millwall!'
Ranganathan responded: 'Why are you letting everyone know you are a racist?', which is then reported to have prompted the woman to start 'yelling racist abuse'.
The source added that another man had yelled: 'Hip-Hop coconut', adding: "It was awful blatant racism but Romesh handled it really well.'
Published: 8 Jan 2022
Recent News
What do you think?